Note : I want to thank Patsy for teaching me how to put on contact lens using Whatsapp. She scolded me for not thanking her on my blog, hahaha!!
Aiyo, i almost strike 3rd prize yesterday!! I bought 1515, opened 1516!!! FML! But i think my mum's more affected cos i very 看开 on all these de. I was the one who asked her to buy this number!! LOL!
This morning, Raeann's teacher just
reminded
me that Raeann's birthday celebration is on this coming Friday!! Wah lau eh, i didn't realise it's so fast lor. But anyway, i've got everything prepared already! Tonight i need to go back & wrap the teacher's day present. Bought it 2 weeks ago but till now still very lazy to go and wrap it. LOL! (Please brain, don't let me forget about this important task!)
And...

We're going to see Elva this coming Saturday!!!
*excited to the max*
Had my 'dinsup' at 9+pm last night; KFC, omg, it's so fattening!!! (Dinsup means the time in between dinner & supper. It's a word formed by myself in my own dictionary. Haha)
We 'nua' for the whole of yesterday at CCK. Watched 'Being Human' with Raeann in the afternoon.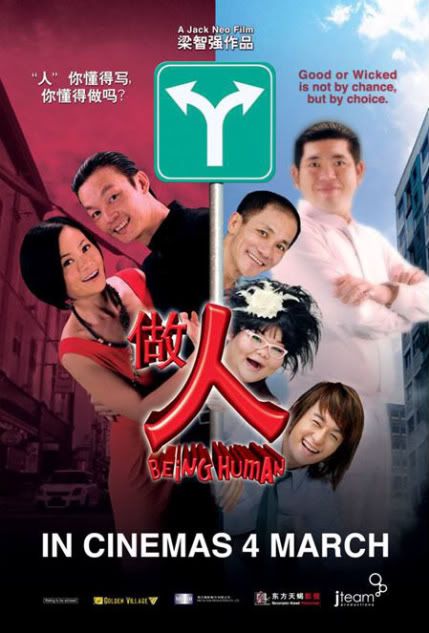 I know i'm too late. But it's better than never! It's a nice show, with significant meanings behind it. =)
Raeann watched till cry cos she thought 'pig pig' died! Yes, she known Zheng Ying Ying (aka Yao Yao inside the show) as 'pig pig'. Wahahahahahaha
She always eat, eat & eat. So i always remind her, "later you become pig pig like that ah!". LOL!
Brought her to Hillview (another office) for lunar 7th month praying session after her music lesson on Saturday. As usual lah, very mischievious & loh soh.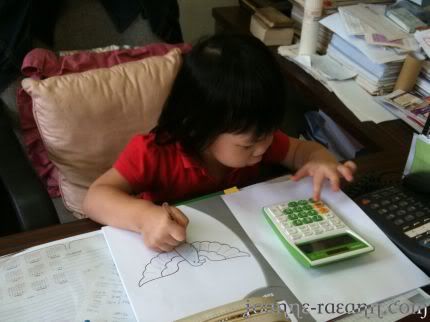 She's using calculator to 'calculate' a bird?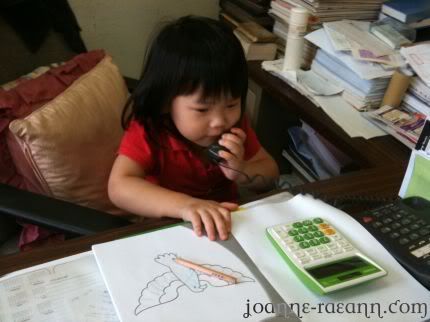 Calling her ah gong at another office.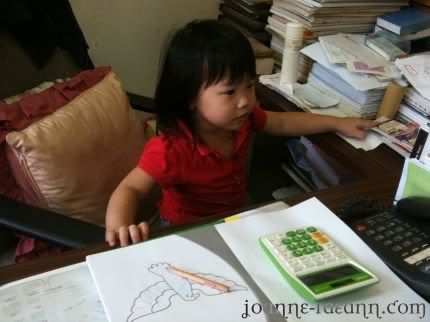 Asking my colleague question again!!!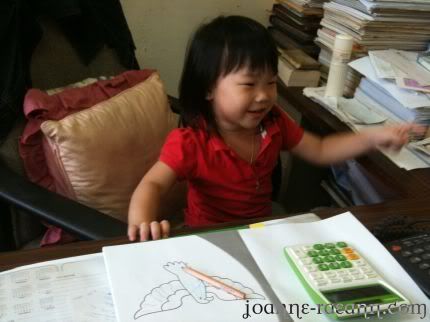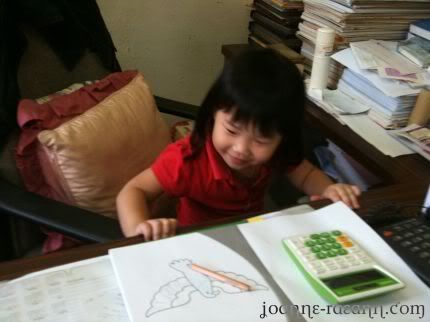 Seems not very satisfied with the answer. LOL!
I'm not a patience person! So sometimes when she ask & ask & ask, i'll get frustrated & scold her. Otherwise, i'll ask her to go & ask somebody else. Cos if i don't want to answer her, she will continue asking, raising her voice louder & louder cos she thought i didn't hear her! -_-"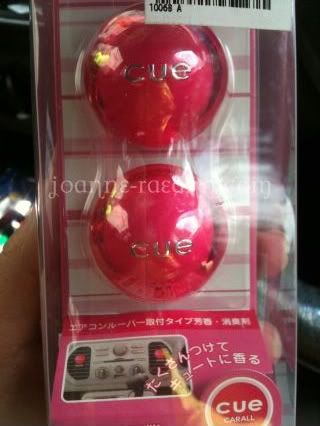 Very random again!! Hahaha!! ZY bought this for me few weeks ago but i'm still so lazy to fix it onto my car!!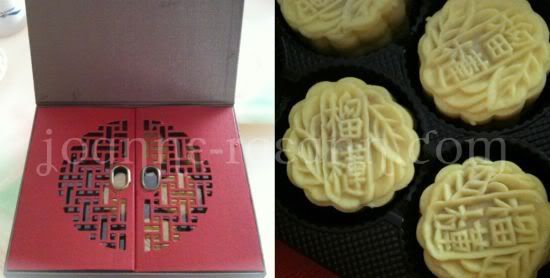 This durian mooncake from Marriott Hotel was given by mum's friend. She kept asking me to try since last week. I only tried it this morning as breakfast. I shared half with my maid cos i'm not a mooncake lover.
My view - It's quite delicious but no longer taste like mooncake leh. It tasted more like durian cake!!
Nowadays people very kiasu hor? It's still the 7th month & mooncakes are already selling everywhere.

We might not be in Singapore during lantern festival anyway! =)
P/S : I can cash out my nuffnang earnings again!! That's fast! I just received my previous cheque about 2 weeks ago nia. Thanks to all my readers!! I love you all so much no matter you love or hate me!!
P/P/S : I've so many site trackers on my blog. With just one click, i can check who reads my blog, where's the source from & etc. That's how i manage to find out so much 'things'. La la la!