FUCK FUCK FUCK! I'm terribly sick now. Fever, cough & sore throat, how am i going to enjoy myself at the concert later??? Urrrghhhhh!!
My hb is so nice! Yesterday night i smsed him, said that i'm so sick & asked if he can bring Raeann to music lesson today? He called me at 7+am this morning, i've already woke up but i'm down with fever. :(
At first, he suggested not letting Raeann attend it cos he didn't sleep for the whole night as he's meddling with his Gundam. But i told him it's $45 per hour, very wasted! Haha (I'm one typical aunty!)
So he came and pick Raeann up & sent her to her lesson. And i took med & K.O until now... Thank you hb!! See ya later! :)
*By hook or by crook, i need to get well by 5pm later!! FUCKERS around, please do not annoy me. FUCK OFF!
♥♥♥♥♥♥
My lil' one will be THREE in one week time... So fast!! 3 years already... How come it seems like i've just given birth not long ago? LOL!
As next week is a school holiday, she had an advanced celebration in school yesterday (3rd Sept 2010).
*Actually, i've done resizing the pics yesterday. Otherwise, i don't think i've the strength to resize it one by one today. But there are some in my sis's camera, must wait for her to send me & i'll add-on to it here.
I wanna say...
Thanks to
SP
for helping me to customise the wonderful cupcakes & cookies. Thanks to the teachers for helping out cos the kids really made a big mess. Thanks to my aunt and cousin & gf for dropping by. Thanks to my sis for waking up so early to attend. (Did i left anyone out? I can't think now... Very drowsy!!!)
*Oh ya, thanks aunt for the angbao. :)
Most of the kids enjoyed the cupcakes, i snapped down some of their looks & the mess they made, so cute!! Got one lil' boy even had 2 servings!! LOL
Fondant is sweet & kids love sweet stuffs. Raeann also finished a cup of it! :)
Alright, i shall blog along with the pictures cos i'm having mental block now!!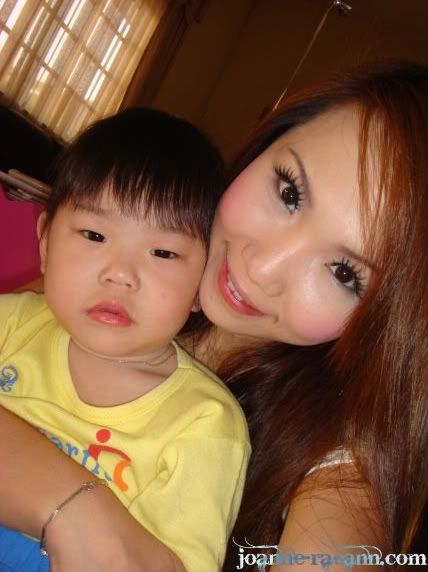 Taken at home before leaving for school... She's really very happy!!




I really ♥ this!! I ordered extra & i still have 3-4 pieces left. 不舍得吃啊!!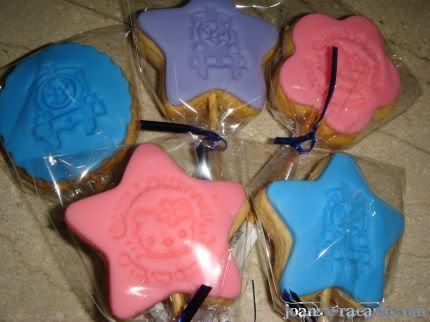 Other designs, also got few pieces left cos 5 of her classmates were absent! :(




Customised specially for Raeann!! I always love to be special! :)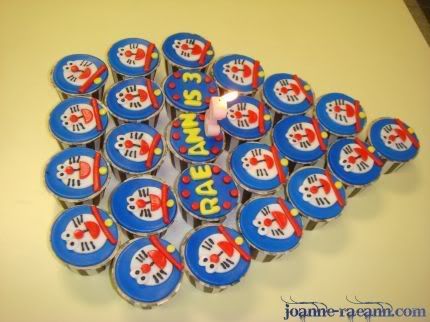 I arranged the cupcakes this way...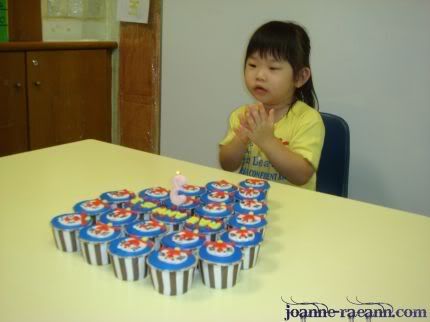 She's singing birthday song for herself... HAHA!!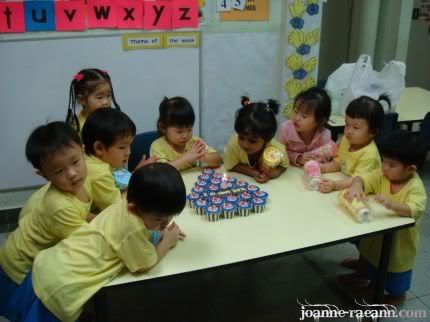 Kids are kids. Look at how excited they are!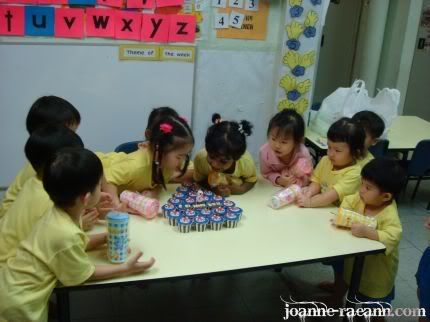 Her friends blew out her candle & she cried... for around 5s! LOL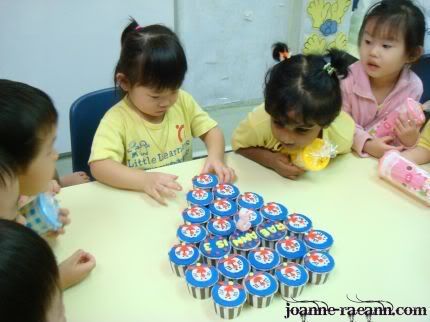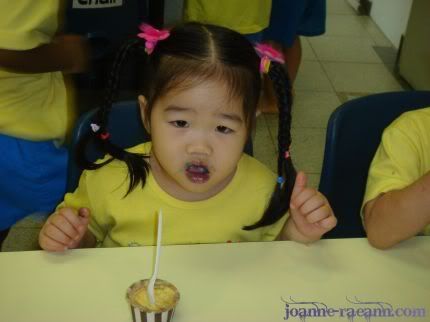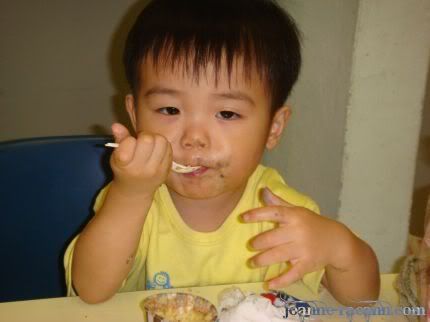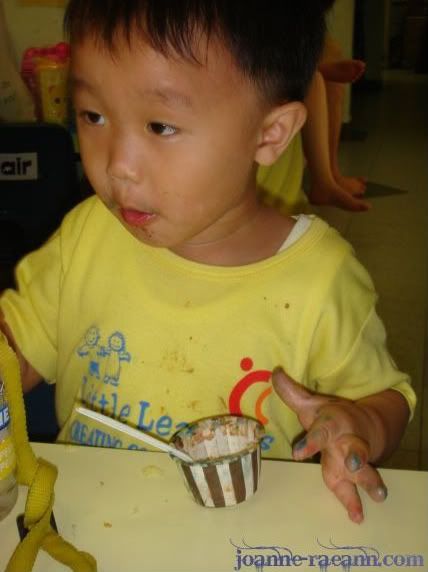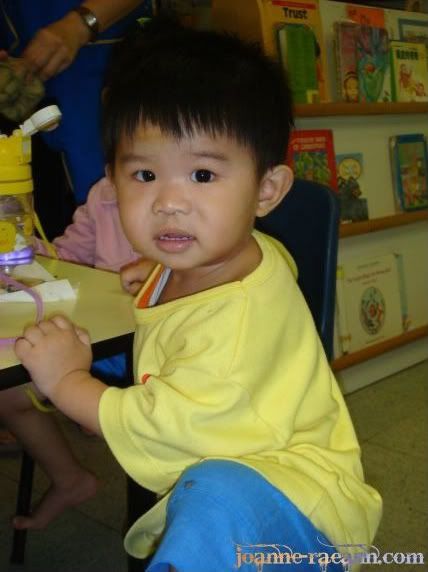 This lil' boy here is 18 months old but he's very very mini (size). So cute lor!! I think he's shorter than Raeann when she was 18 months old. He's super duper cute can! His name is Rui Zhi & Raeann keep saying that she wanna change name with him, sit at his place, etc! =.=




I got my wish!! The family photo!! But don't know what the hell is my husband looking at?! There's a nicer one at Bo's cam!

After everything ended, we went to aunt's house to wait for Ethan to come back (from school) before going for dim sum.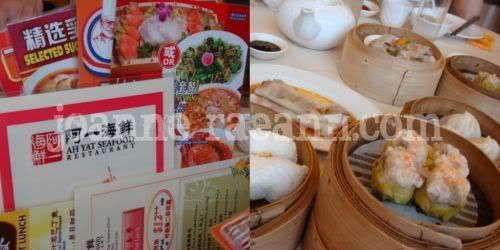 We ordered about 20 dishes!!!! Hahaha




This is Ethan; Raeann's 'dear'! Haha Handsome hor?? His eyes are damn nice!! How come Raeann don't have such eyes??? 可以放电的 leh!!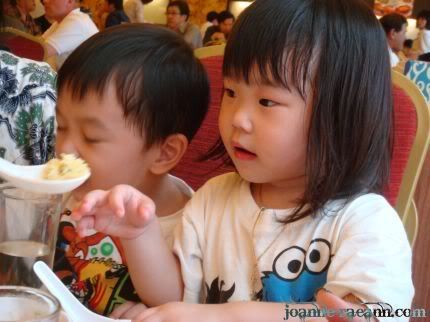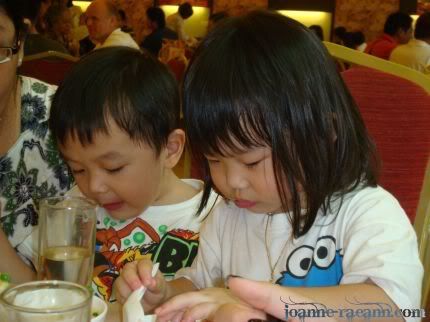 They are so close till that they can share one chair! Hahahahaha

*See lah! Raeann pulled down her rubber band again!!!



Ethan's a good boy, he will share everything with Raeann. But my girl is very 'chia' (fierce), good mood okay, bad mood then siao liao! ZY said that Ethan will cry everyday if he marry Raeann. Wahahahahahahah
P/S : To be continued... (Part II)! Raeann's so fortunate!! Every year don't know celebrate how many times lor! At least 2-3 times!!