I'm on half day leave & Raeann's on MC (from sch) today, becos we couldn't wake up in the morning! =X But we're both in the office now lah! Very tired leh! I don't know why am i so tired when i'm not even the lead? When i woke up this morning, my whole body ache like fuck!
Oh my, i'm really tired to continue typing now... Shall post up a few pics of yesterday to end this post! Uploading the rest on FB now, go view them on my FB ba! :)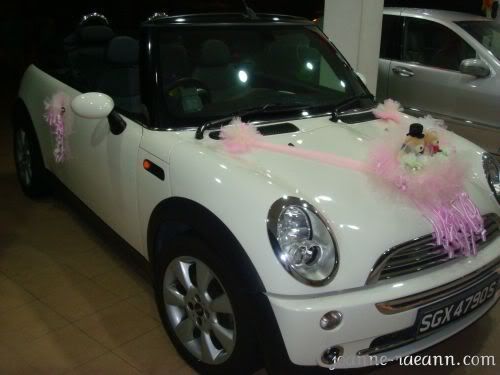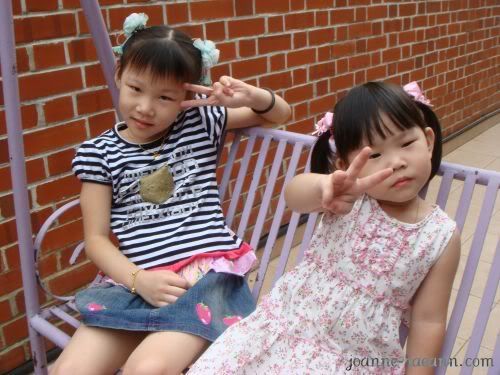 My cousin. They said Raeann looks like her! LOL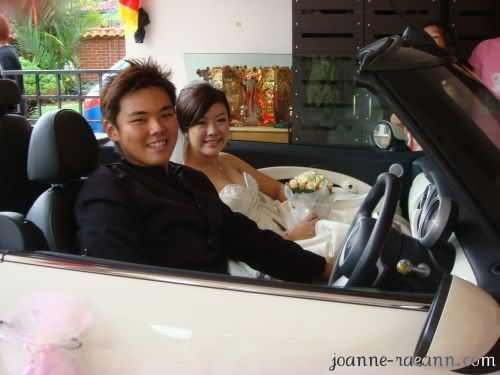 Bro & sis-in-law.
My sweetie pie who stole half of the limelight at night!
Oh yeah, thank god she's so cooperative and obedient last night! She did not fuss or complain at all! *phewz* Usually if she doesn't like the apparels, she will give excuses that the clothes make her itchy or pain... And her hair! She managed to keep it in shape the whole night! I spent $25 at salon to do it for her de!
LOVE HER MORE when she behaves herself!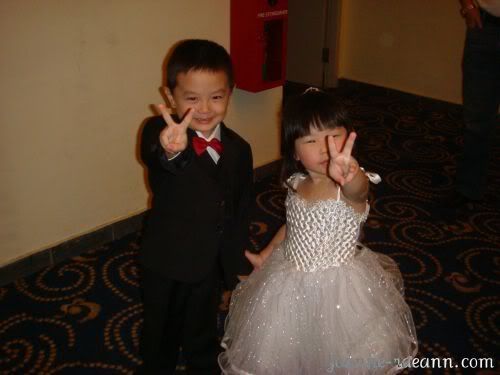 The lil' groom and bride. Raeann asked Ethan to call me 'mother', like how ZY addresses my mum! Haha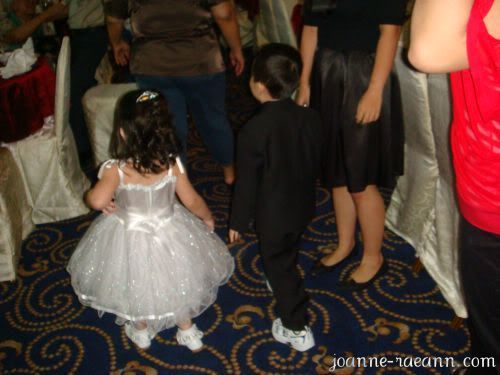 I was literally protecting her HAIR the whole night long! So worried that it will get messy before the march-in.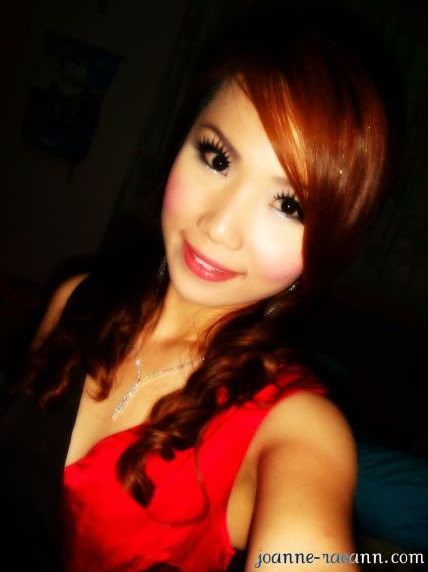 Weird leh, there's only ONE pic of myself in my camera! But i know there are alot in others' camera, especially my husband's new camera. Buy new cam then keep forcing people to take pictures!!! =.=
He sot wan leh, bought a $1,199 (or $1,169) Sony NEX camera himself on Saturday noon. He said he wanted to bring Raeann home to see the rabbits, i didn't go cos i need to stay at home to wait for the cakes to arrive. Then i don't know why he brought Raeann to shopping and bought a camera! I don't know what's wrong with him!
Then when he brought Raeann back to my place that night, he excitedly showed me his new camera. He wanted to leave it with me, asked me to use it. I told him that i don't want it. So, he left the camera with Bobo now!
He really cannot have money cos it will hurt his flesh. He must spend all his money, then he will be happy. FHL!
Edited : 26th Oct 2010, 10:05am
Received this pic from Jing's sis; Tiantian last night...

It's so utterly cute can!!!!!!!!!!!!!!!!!!!! The 2 cuties were 'yum-senging' on the stage. I love this pic! Very candid, as though it's really their wedding. LOL
Quick! Congrats me! I became MIL at the age of 26!!! Wahahahahahahahaha