In ultimate bad mood today! I don't know why either? Just feeling damn fucked up! FML. Most probably, this is the so-called 'Monday blue'. =(
Pics!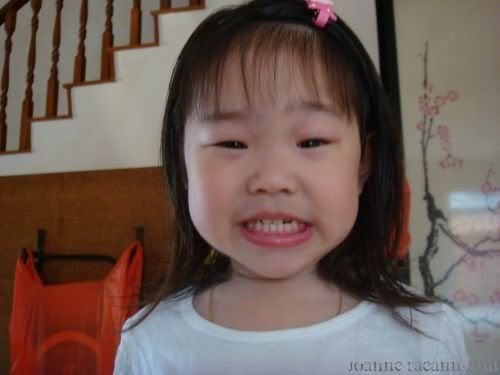 On Saturday before going to her lesson.
She got reprimanded by her teacher that day cos she kept wanting to come out & look for me. Her teacher brought her in and told her to cry lor, cry louder than the piano. I ignored her. She stopped after awhile. While she was crying, i went to hide at a corner. I don't want to let her see me and get distracted in class. This will affect others as well. Okay, i'm a harsh mother. =X Anyway, i think this is just part and parcel of growing up lah! :)
I really can't stand her messy hair! But she will always pull out after i tied nicely. Waste my effort!
Mushroom pot with mummy for dinner before praying! I took this pic becos of the tau kee...
Raeann asked ZY what is that... ZY (while drinking water) told her is tau kee lor!
Then she said, "papa, 我也要吃 LAO CHEE leh".
Wahahahahaha! I almost spitted out my food! She heard wrongly lah!
♥♥♥♥♥♥
Attended Karine's Jaedon 1st birthday party on Sunday noon. Luckily we managed to reach in time before cutting cake. ZY lah! Sleep and sleep! He really damn 'buay zi dong' wan. I hope a lizard will drop into his mouth one day when he's sleeping. =X
Didn't took pictures (only one in Leann's cam) cos hmm... no mood leh? But anyway, it's a pleasure to meet those pretty mummies in person. All of them are damn chio & slim de lor! =D
I was quite hostile cos i was SHY! =.= (TMD, how would i possibly be shy har? But i really was leh!)
The kids' idol; balloon clown. He's really pi pi poon pi pi sia. He can make alot of characters using balloons. And he can blow one balloon with one shot of his breath!!! Really 厉害! ZY said it's becos of his CC (size). LOL
P/S : I asked Amabel (E-ling's princess) what character she wants and she told me, "i want ANTS"! LOL! I was like... "Huh? Ants? How to make ants?" She's so cute & creative leh! Haha
He made a green dog for Raeann initially. Then she requested for a 钓鱼 one... in green too! Everything also green, green, green, BTH her!
Okay, she asked me to take this pic for her. 她在钓鱼!!! Her expression says, "WOW, sucha big fish!".

Besides that, Karine prepared a gift for every kids too.