Shopping & Home Sweet Home
We had a total of 4 rooms, two rooms have to check out at 12pm and the other two rooms at 2pm. Mine was at 12pm but we checked out at 11am cos I WANT TO GO SHOPPING! And there was coach picking us up at 12:40pm to airport when our flight was at 4pm! =.=
However, they decided not to take the coach as it was too early and booked the hotel mini bus at 2pm instead. We were only informed by the receptionist about it when we were doing our check-out. Initially, i told ZY that i didn't want to have my brunch becos i wanted to make full use of the time to shop! Moreover, we have plenty of time at the airport (if we were to go at 12:40pm) and we could just eat there what! But since we were leaving only at 2pm, ZY must eat first, he buay tahan hunger wan. We had KFC, i only ate the egg tart though. Heehee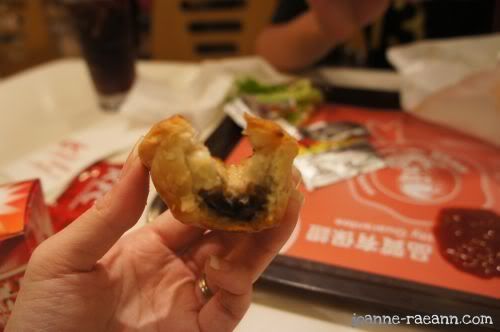 The black black thing that i'm wondering what issit for days? Guess?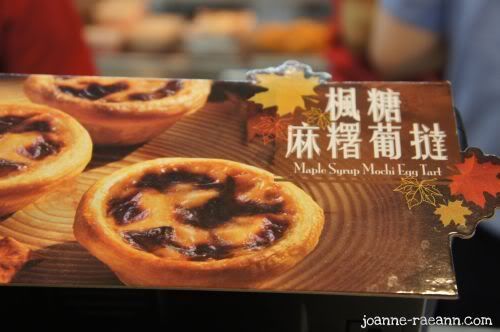 It's maple syrup! At first we were thinking is brown sugar lo! Very nice leh! How come SG don't have har?
After eating, SHOPPING TIME! Fuck man, i was left with less than 2 hours only!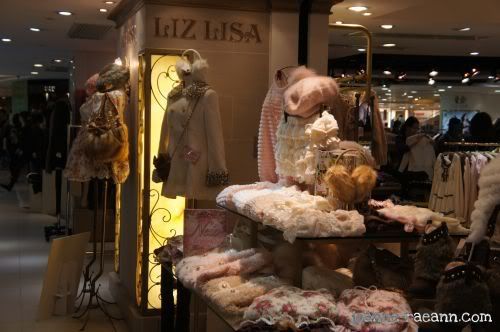 The things in this shop are all very princessy and sweet!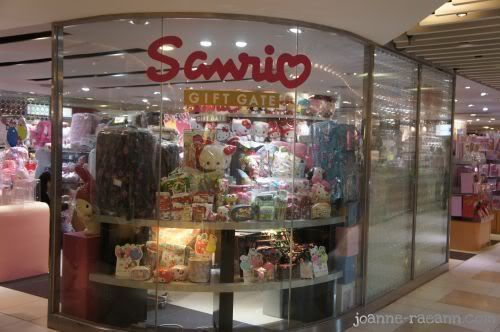 I bought quite a few items at Sanrio!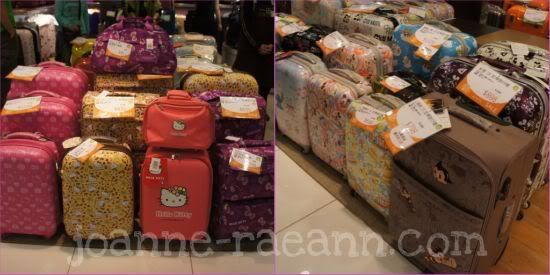 Just beside Sanrio, there are plenty of beautiful luggages! Not very expensive, about S$100+ only!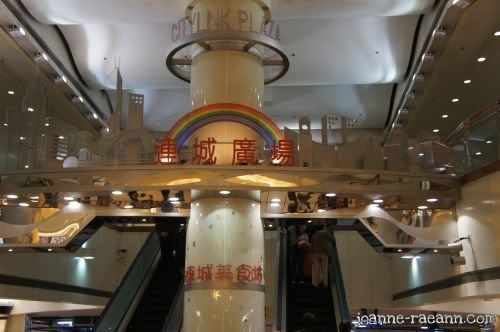 There's a link to this shopping mall; Citylink Plaza. All the branded shops are there! Very expensive lah!
Due to not enough time, i simply grabbed everything that i liked! Of cos, i looked at the price first! If it's not cheap and i can get it in SG, i never buy lah! What's the point right? So stupid lidat! Time passed by so fast and it was time to leave for airport liao! :( How come when you're shopping, the time always passes so fast de???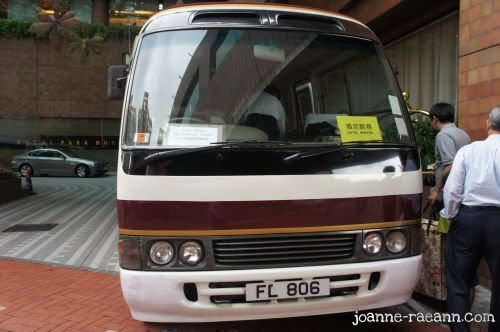 At 2pm sharp, this mini bus came and sent us to the airport! We really took all sorts of public transports there lor!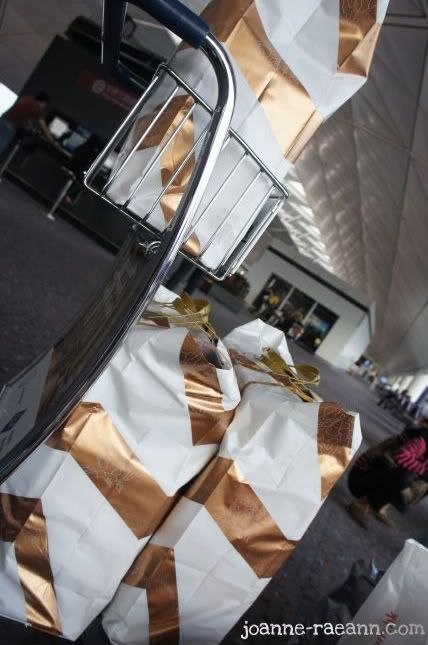 Even till the airport, we were still rushing!!! Luckily my SIL's familiar with HK and helped us to buy their famous 老婆饼. She bought a total of 35 boxes which costed S$500+!!!!!! Si bei expensive leh! Me and ZY took 10 boxes. Also not enough lor! After giving here and there, i'm left with 2 boxes for my friends only. FML lah! How to give lidat! I've came across people opening up a box and give 1-2 pieces to each friend only. Sorry ah, i feel that's damn niao leh. If that's the case, i might as well don't give lor!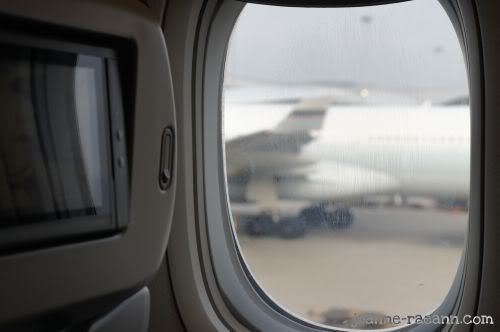 Byebye Hong Kong! May we have the chance to meet again! =D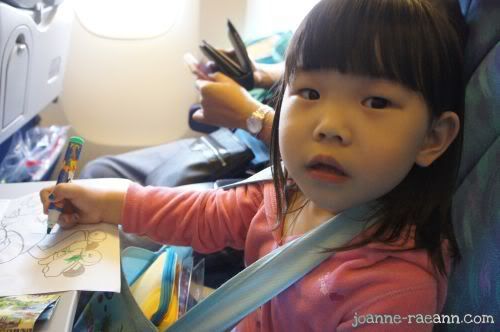 This morning, this girl just told me that she wants to go HK & meet Mickey Mouse again. LOL I asked her to tell my dad tonight to bring her to Japan to meet Mickey Mouse instead. My dad will definately bring her there if there's a chance! She's like my parents' another daughter lo! Mummy called her almost everyday from Shanghai! Hahaha They are coming back today, we'll be going airport to pick them up tonight! =D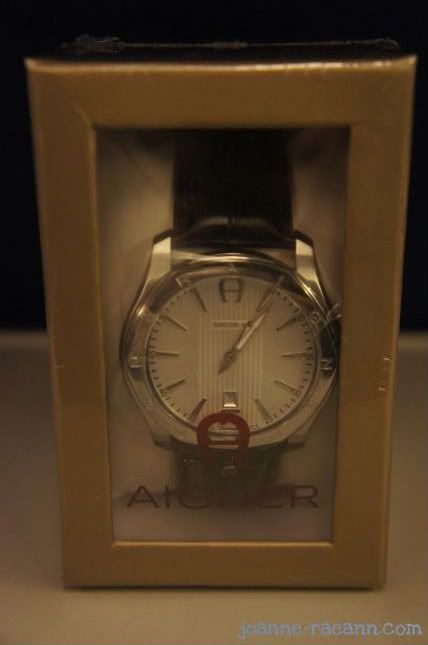 ZY bought this watch from Inflight Sales. He said it's very chio but i know he won't wear de lor! He bought becos he got alot of HKD left! =.= But i think Melissa took it liao cos she likes it!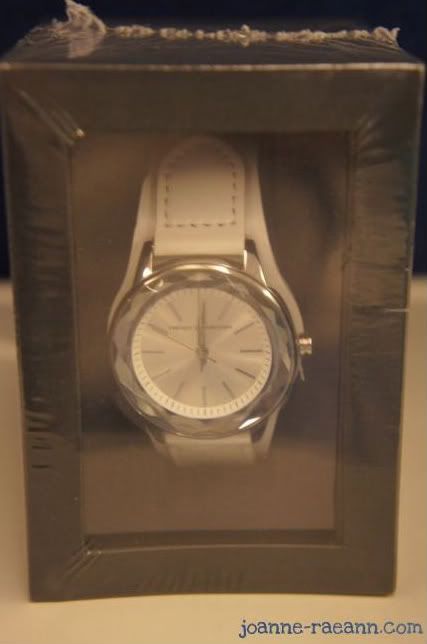 And i bought this! Same like him, i bought becos i've got HKD left! LOL Till now, it's unopened yet, still in plastic wrapper. Maybe i can sell it away? Maybe i can give to whoever as birthday present? Maybe i should just keep it as a souvenir for myself? Maybe, maybe! =P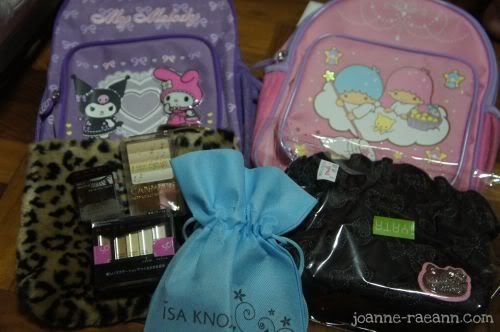 These are my last minute shopping loots! Fast anot? Hahahaha
The two cute bags are for Raeann and Ashlyn for their school next year! Those cosmetics are for myself and friends becos it's cheaper there! Before going HK, i bought one KATE eyeshadow palette from Watsons to try and i find it damn good! I recommended it to Trix too! Then i saw it at HK Sasa, selling S$8 cheaper!!! I grabbed 3 pcs at one shot immediately, one is for Trix! =) The leopard print and hello kitty cosmetic pouches, i also don't know i buy for what? =.= And guess what's inside that blue bag?!

It's CathyCat (a long-time brand from Korea) blusher! Very chio right? And it's so cheap, only about S$23! And i don't think it's available in SG! :) It's my BEST buy in HK liao!
~ The End ~
♥♥♥♥♥♥♥♥
Summary for this whole trip :
Overall, it's not as bad as i expect, i expected it to be worse lah! At least...
I learnt that Raeann has got no problem taking a flight and adapting herself overseas.

I learnt that bringing kids from 2-5 years old are really troublesome and 烦.

I learnt that too many kids cannot travel together becos one do, all follow.

I learnt that it's actually okay to travel with my ILs, i just have to shut my ears, talk only when necessary and be more chin-chai.

I learnt that Hong Kong Disneyland Hotel is really pretty.

I learnt that it's totally NOT advisable to bring kids to Ocean Park, waste time & money only.

I learnt that 5 days are NOT enough in HK unless there's no intention to do any sightseeing at all.

I learnt that it's NOT fun and enjoyable to rush here & there (everyday) during a holiday trip.

I learnt that a holiday trip without shopping is a total torture for me.
You know, i've been wondering, issit becos of the place itself or the tight schedules or the companions or the kids that i find that Hong Kong is no fun at all??? I seriously don't know. If there's a chance, i wish to go there again with my friends! Maybe i'll have a different perception then! :)