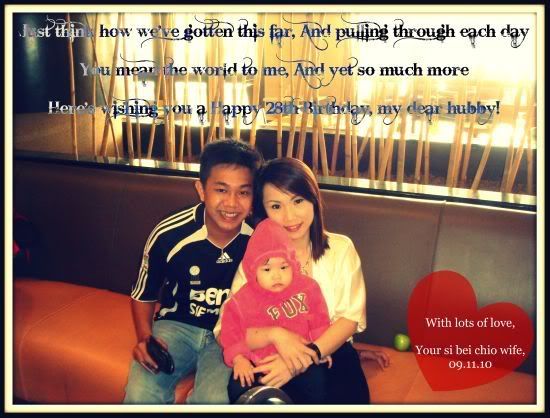 This is the nicest casual family photo i can find liao.
HAHAHAHAHA, actually my intention is not to wish him Happy Birthday, is to let him know he has got a si bei chio wife and therefore, he must cherish! LOL
I posted this up on his FB wall, i wonder what will his reaction be. LOL! Anyway, i've booked a table at The Rice Table tonight at 7pm. Wah seh, suddenly i feel that i'm sucha nice wife. *Tsk* Although it's not a surprise (i'm not a person who's able to give surprise) cos i informed him last week after i booked, but i know he is happy lah. Afterall, it's the thought that counts, isn't it?
Anyway, Mr Ho (if you're reading this), Happy 28th Birthday to you! May all your wishes come true, strike more 4D and 钱滚滚来. (So that we can have our own house soon, and you can give me more money and i can buy more Prada & Miu Miu. Heehee)
Come to think of it, i know what's one of your wish lah, is for me to stay by your side forever right? Hahahaha! Ok lah, ok lah. With effect from today, this year, i promise i'll be the one celebrating your birthday with you every year till the day i die. (Shit, is the cold weather or these words making my hair stand? >.<)

Last but not least, WE LOVE YOU, Ho Papa! =D