Before i start, i think there's a need to fuck myself first. Why am i sucha blur sotong?!
The Rice Table is located at International
Building
. All along i thought it's the one located at Tanjong Pagar but that is International
Plaza
. And we went to International Plaza initially. I searched the entire building but can't find The Rice Table restaurant. I called up and ask. They told me is at International Building, not Plaza and International Building is located at Orchard Road. FML can!
Luckily ZY wasn't angry or frustrated at all cos he was on the phone and i was asked to do the driving. I don't know where the hell is International Building lor. I called Patsy and ask, she told me is next to Lido Cineplex! So i aga aga, drove there blindly lor. And little did i know that International Building was where the previous Music Underground was. Ohh, so that building is International Building, now i know. FML again!
Our appointment was at 7pm but we reached at around 7.45pm due to traffic jam. It's not advisable to drive during peak hours, can kill your legs man! LOL! It's not that serious actually cos i'm used to driving liao. But it doesn't mean that i love to drive cos i don't.
Well, i can only blame myself for not asking & finding out properly before we went. I'm so sorry to my two VIPs. :(
Anyway, here's
The Rice Table
! It's an Indonesia Restaurant by the way.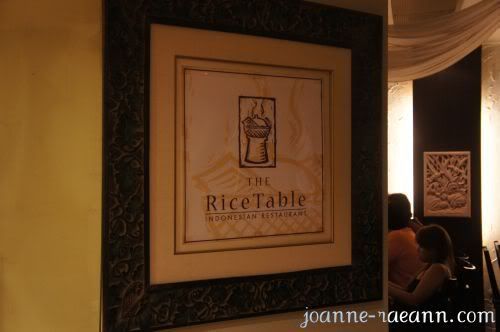 Address : 360 Orchard Road, #02-09/10 International Building, Singapore 238869.
P/S : Please remember it's International Building and not Plaza!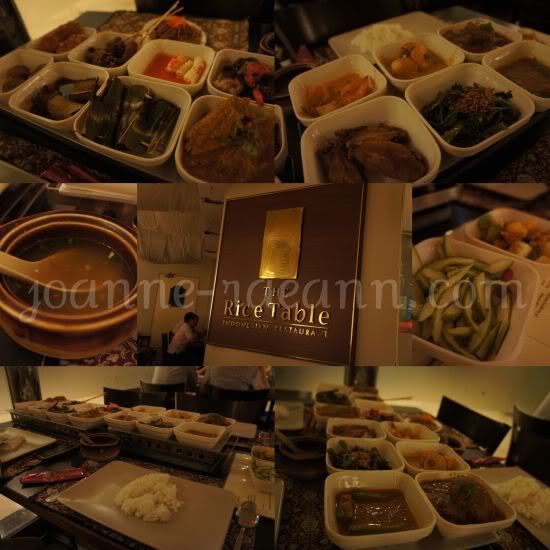 All the dishes (not sure 19 or 20) were served together. If you don't want beef, just let them know. For us, we don't take beef due to praying reason and i also can't stand the smell lah. I don't take lamb and beef at all becos i think they are smelly! And i don't wish to have any body odour, if you know what i mean. :)
So it's one dish lesser for us! But still alot of varieties! Portions are given according to the dining paxs. Eat-all-you-can, it's a buffet!
But we didn't eat much, first round also never finish up lor. Frankly speaking, the food is not bad, just that i lost my appetite while finding the way & ZY was not hungry as he had heavy lunch with his friends earlier. So wasted leh! :(

I got scolded by ZY for wasting money to treat him eat so expensive food (not really expensive lah, he just felt it's not worth it!). 他真的很难伺候 leh! If i treat him to simple & common food, he will confirm say i si bei niao. This cannot, that also cannot, don't know what he wants leh! Shit him lah!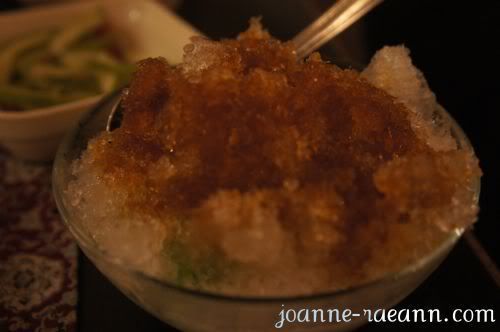 ZY ordered Chendol, he said it's not bad.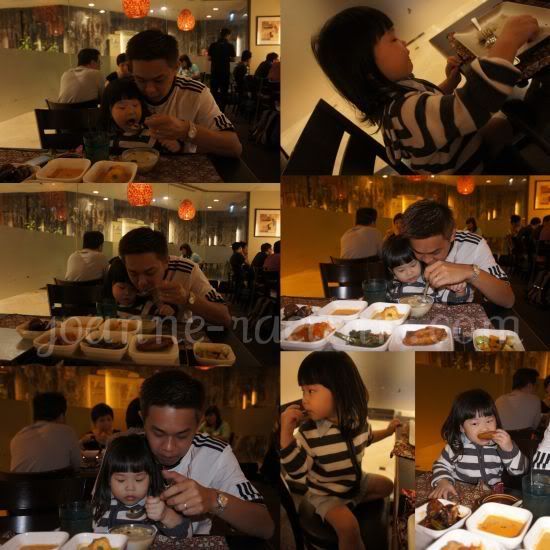 My girl can't resist cold, icy & sweet stuffs!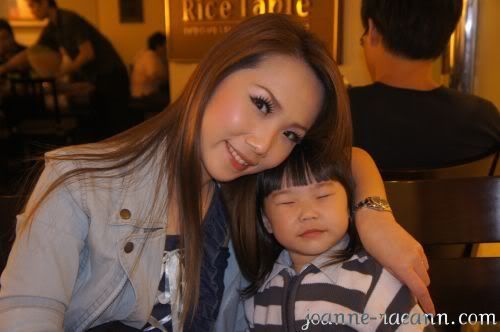 My husband is obviously not a good photographer, he can't even centralise the pic. Forgive my ugly face, i was having bad complexion day. :(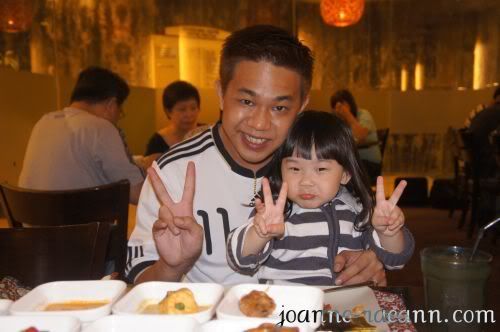 My skill is so much better, isn't it? My two VIPs!!! :)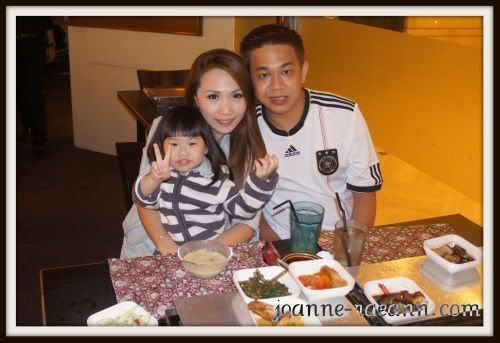 Finally, a decent family pic cos ZY's looking at the camera!!! Hahaha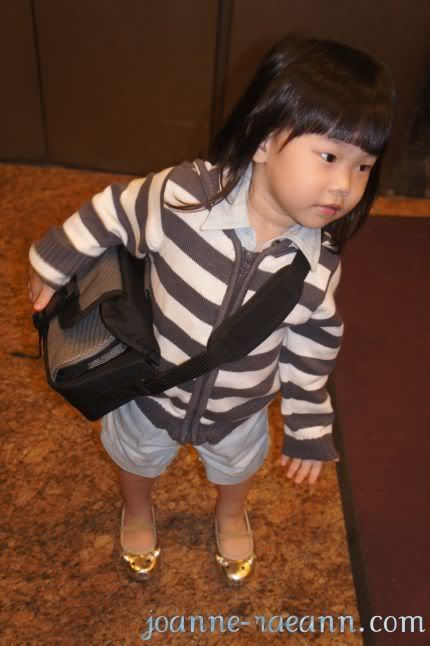 I've found someone to carry the camera!!! Raeann said it's her bag! In future, she'll do the job! It's too bulky, i'm lazy to bring it out!!!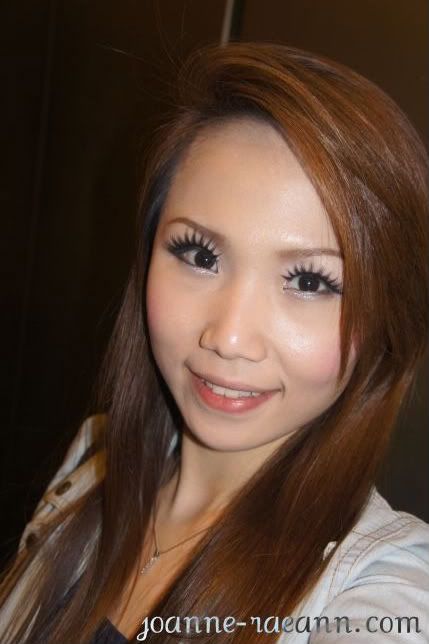 Wow, i'm getting more pro in self-shooting with this 'dua leng kong' liao! Heehee
Look at my face!!! If you notice, there's a patch/spot/whatever you name it on my cheek! Urghhh! It popped out 2-3 days after using My Beauty Diary mask and that nose mask from Daiso. I don't know which causes it, either one or both. Super gao wei can! I went to squeeze, poke and dig it with needle last night! =X Nothing came out! But it's damn itchy and i kept scratching it. I hope it will disappear soon! Damn sad lah!!! :(
Oh ya, 'dua leng kong' is with me now. My husband asked me to use it. I think (think only har), he knew that i loves to take pictures so he indirectly bought it for me. It will be of good use for a blogger like me! Hahaha! See? I told you my husband loves me liao. LOL!
I'll definately make good use of it! 不用白不用! It's considered mine anyway. Cos hor, ZY's belongings/money = mine and my own belongings/money = mine too. Hahaha! Say me whatever you want! I don't care.
I don't see anything wrong with it cos i'm his official wife leh. I use/take better than he give it to other woman (if there's any), right? I've grew smarter now. I used to think that i've got the ability to earn & spend on my own, everything we share to pay and his money = his, my money = mine.

But no no no, this is wrong thinking! Even though i've got the ability to earn, but that's for my own usage. He has to pay for Raeann's nanny, sch fees & milk powder cos he's the father. (Those clothings, shoes, etc etc, i'll pay cos i'm the one who wanna buy it.) And i'll still take money from him, provided he has, otherwise i won't.

Please don't say i'm materialistic cos i'm not! Materialistic describes a person who is markedly more concerned with material things (such as money and possessions) rather than spiritual, intellectual or cultural values. My husband's not rich and he doesn't have any assets/properties on hand but i still stay by his side.
I'm only taking what i deserved, WHEN he has it. One good example is when he strikes 4D, i'll definately ask him to give me a lil' of his winnings. And he will definately says that i'm a good 'sucker'. HAHAHA

Seriously, i don't give a damn to what he says as long as he gives me the money. If i don't ask from him, he will anyhow spend it away also. 男人有钱就做怪! So might as well give me lor!

As women, we must learn to protect ourselves. One day if anything happen, at least we still have some money to survive. I'm not saying that i don't trust my husband hor. I do trust him but not completely. I'm born with a skeptical attitude. I don't trust people easily & completely (esp men) cos when you over-trust someone & if that person hurts you, the impact will be double lor.

So ladies, learn to protect yourselves ok? ^^