Date : 6th November 2010, Saturday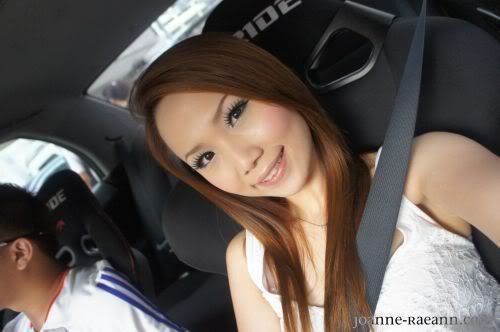 I'm testing out ZY's si-bei-good (as claimed by him) camera when on our way to meet Cheryl for dinner before Mi's concert. Alright, just like DSLR, no editing is needed. But the thing about such cameras ah,cos it's too sharp and clear, it tends to capture every single flaw on your face (pimples, scars & etc). Thank god i'm bless with a good complexion. God is fair! =)

P/S : I tell u ah, it's not easy at all to self-shoot with this 'dua leng kong' lor!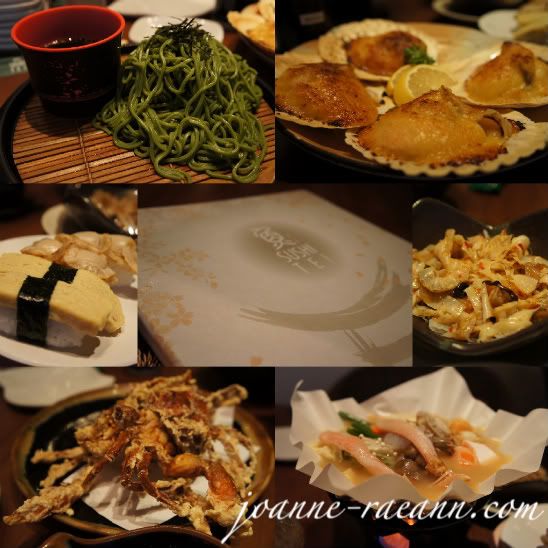 Sushi Teh at East Coast for dinner.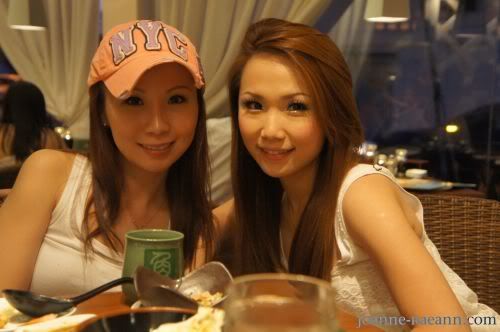 Took some pics on Cheryl's cam. And her friends (note that it's not only one) also said we looked alike and asked if we're sisters. LOL! I don't mind to have her as my sis, seriously. OMG, my macho arm looked slimmer here! I begin to love my hus's cam now!! Hahahaha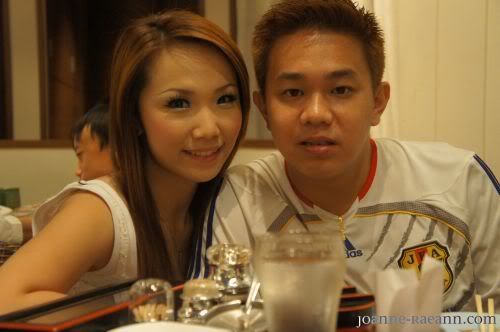 Okay, something happened before the dinner and my hus was in utter bad mood. But heehee, some good thing happened today as well and he's in utter good mood now. Again, god is fair! =)
*I'll not disclose anything about this.
After dinner, we made our way down to indoor stadium immediately. We reached there before 7.30pm and carpark was full already. We had to park at the open carpark opposite Kallang Leisure Park. Only one word to describe the humans flow - scary. ALOT of people leh!!!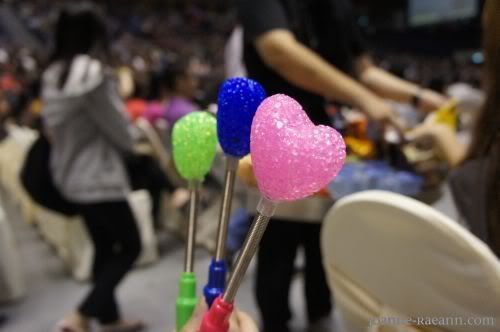 All Sammi's souvenirs were already SOLD OUT before 7:30pm. We did not manage to get anything! :( Only got these 3 for $10 lights from those 'illegal' sellers. SAD! Obviously it's for Raeann de lah! I did not use it at the concert at all, you will know why soon.

The good thing about this cam (sorry, i don't know about other cams cos i'm a noob.) is, we can take multiple shots and capture a whole 180 degrees. Look at the humans!!!
Alright, can't deny that Sammi's concert are much more crowded and happening but i did not enjoy that much cos...
Our seats were at block PB-2, roll 28, seat 15 & 16. Even though it's right in the center & corner seats but it's si bei far leh. And i paid $161 for each tix! =.=

ZY disappeared most of the time cos he is the photographer. We brought only one cam there & that's why i can't camwhore. Sad and bored! :(

Everyone was standing (dancing) most of the time, blocking my entire view. I guess i was the only one sitting down cos i've to look after the camera bag and my own bag. And i just can't bring myself to dance like a mad woman alone (ZY disappeared).

Sammi's chinese cannot make it. Most of the time, she was speaking in cantonese and i don't understand a single shit! :(
So now you know why i was able to FB all the way cos i was bored lah! But then hor, the opening of the concert was great man!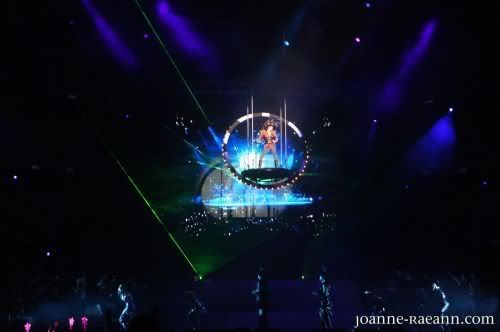 Sammi appeared from above. I kept telling ZY, "上面, 上面" cos he couldn't find her. =.=
Aiyo, what a good photographer leh!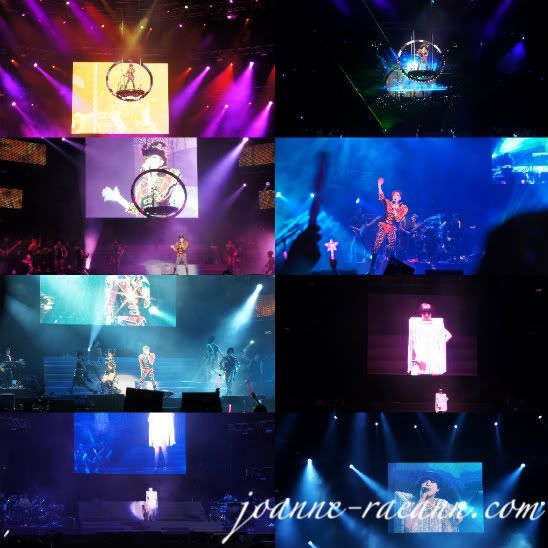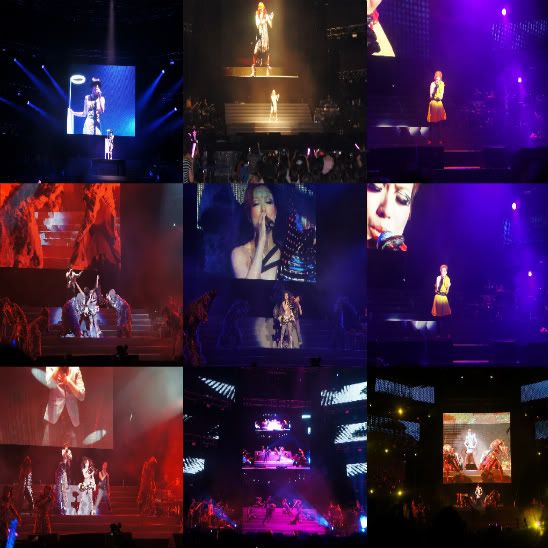 Yes, this is the furthest NEX-5K can zoom (ZY 'hiong' in front somemore hor)! I wonder why lor! The ladies infront using similar cam as Cheryl's (i forgot what brand and model), they can zoom till Sammi's face so big and clear leh! So much for a $1,199 cam! Cheryl bought her's for less than 1k lor. I told ZY i want to go and buy that liao. But i think he will kpkb if i really buy.
But NEX-5K is really not that good leh. The batt 'eat' up super fast lor! Concert haven end, the batt went flat liao. Sigh! That's like about 5 hrs lifespan nia. =.= And thus, i wasn't allow to camwhore at all. Took 1-2 pics nia then ZY scolded me liao, "人家来拍郑秀文,你在拍你自己!". Wah lau, cannot meh??? 早知道带我自己的 T20! *tsk*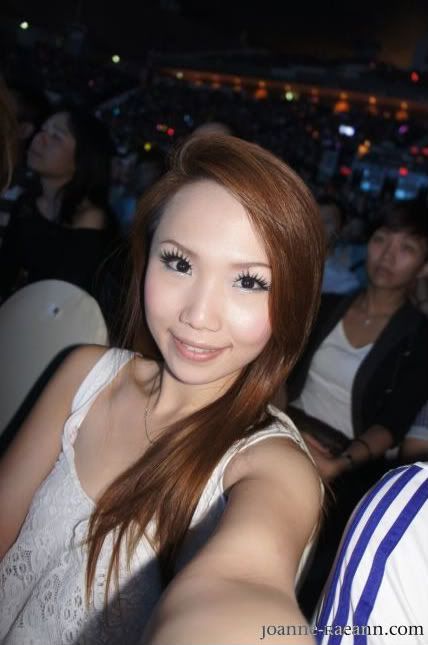 These were all the pics taken yesterday. ZY took alot of videos though. But i'm lazy to upload leh!
And oh btw...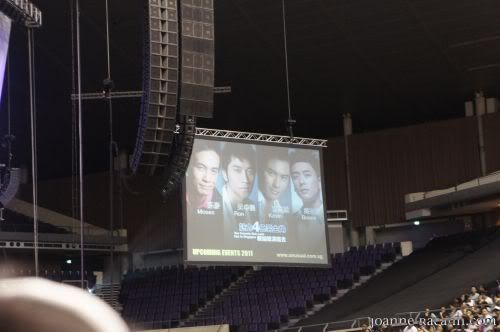 These 4 hunks are coming to SG next year!!! Date is still unknown yet. I'll go & find out okay? Heehee