AIYOYO, Raeann slept like a log this morning and refused to wake up NO MATTER how i tried to wake her. I think she must be damn tired cos she can't really sleep well at ZY's place, always sleep very late but wake up very early and refuse to take any afternoon nap.
Thus, i asked my mum to help me to bring her to my aunt's place so that i can come to work earlier. But when she woke up, she cried cos she couldn't find me! She's very attached to me nowadays, i don't know why. Luckily my mum & aunt managed to calm her down already! :( I just called her and she said very sweetly, "你放工了来带我 huh!". :)
Anyway...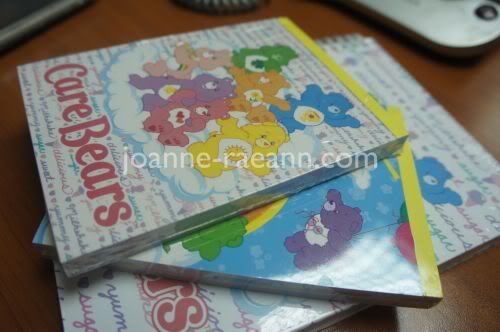 These are the uber cute Carebears notepads and notebook i bought on Saturday! There's one more Raeann took it already! I really 不舍得开&用 leh! OMG! How??? FML! I always love to buy all these but i never use them wan. URGH!!!
I'll giving one notepad (the top one) away to one lovely reader! :)
Details will be up at 1pm.
If you're interested to win this, come back later to check it out! :)
P/S : These are 100% authentic! Pages inside the notepad comes in 4 pretty designs! VERY CHIO OK!
Edited : 1:26pm
Alright, it's very easy to win the Carebears notepad from me! Saw the
Queenbels
advertorial above?
Yeap, simply purchase any item from
Queenbels
, drop a comment here to let me know what have you purchased (please be honest hor!) with this sentence
"I LOVE QUEENBELS"
and your email address. And one of you will be selected randomly on 17th December 2010, 12pm.
Don't be shy okay! Cos you might be the winner! =D
P/S : This notepad is solely sponsored by me. :) See! I'm giving you so many good reasons to shop at
Queenbels
! Shop it now!