Especially those that are battery operated & able to 'talk'. I feel that they're so creepy.
Raeann has two Baby Alive. The first one is bought by ZY last year, it's not cheap, about S$100, if i didn't remember wrongly. Initially, i wanted to get it for her de, i brought her to Kiddy Palace & asked her to show me cos i don't know what the hell is Baby Alive. After i saw, i decided NOT to buy and ask her to choose other babies (that's unable to talk) instead. Not that i'm stingy but i had bad experience with 'talking' toys before! Erm... you all remember, Teletubbies?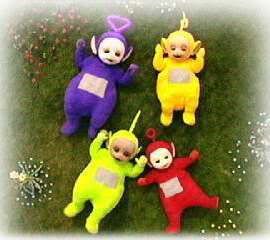 It was very popular during my sec sch days. I'm sure those who knew them would have heard that they woke up to dance in the middle of the night! So eerie! I think that the first Baby Alive (bought by ZY) look as creepy as them!
This is how it looks like...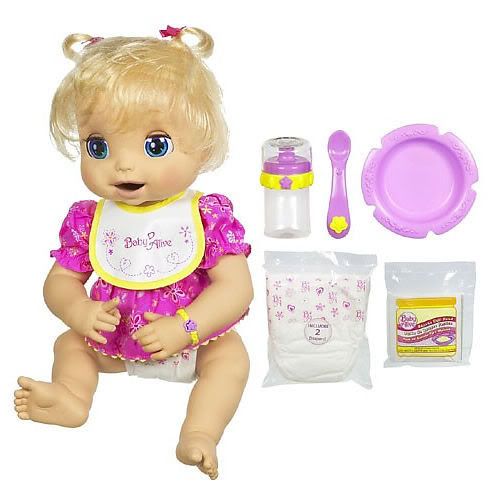 Besides talking, this Baby Alive can eat & shit, like a real baby. And you need to buy it's food and diapers which are more expensive than a human baby's one. It's a total CRAP to me lah! Of cos i never buy and now, this thing don't know dump at which corner of the house liao. Raeann don't even bother to look at it lor!
The 2nd Baby Alive was bought by ZY's bro 1-2 months later...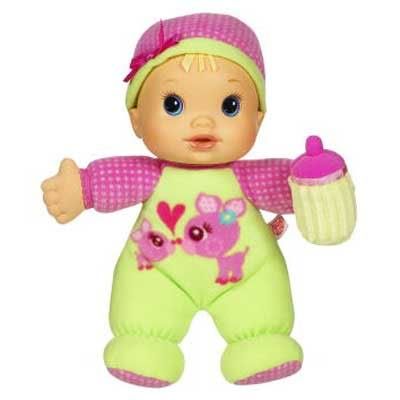 This one look much prettier and less creepy than the first one but still, it can talk! Raeann likes this more cos of it's size (smaller), easier to carry about. Now become very 'nua' already cos Raeann carry her almost everyday lor, pat her to sleep & etc! Asked me to be careful when i walk (cos she placed her to sleep on the matress on the floor), don't step on her, blah blah blah. =.=
But last night, i got the urge to throw this thing away. Cos it suddenly talk & talk in the middle of the night! FML! I'm one whom will wake up at the slightest sound.
Well, i didn't throw it lah cos i know Raeann will 吵 to buy another (same) one back if i do so. Hence, no point throwing lor. I dumped it outside my room & went back to sleep.

After all, i'm just trying to say, i DO believe that one's soul can be trapped inside a doll or soft toy. Period!