Stuffing myself with food, food & lotsa food during this weekend. It will be a miracle if i didn't put on any weight, but i doubt so. I'm so B.L.O.A.T.E.D now. Just had my dinner (XO fishhead bee hoon) with my mum & bo. NOT NICE at all so i'm not going to waste my time & blog about that! Let's go back to yesterday...
You know, on Friday night, i dreamt of something related to Gong Cha, so ironic. HAHA! I told my husband about it on Saturday noon and he brought me to City Square mall to buy it. Although at times, he will do some stupid things to make me angry, but he do, at times, do things to make me happy as well. :) But hey, Mr Ho, i expect MORE okay! You see ah, i don't always blog about his bad things de, i blog about my feeling. I don't know how to pretend leh, no choice. What's the point of keep saying how good and how good is he on my blog? NOBODY is perfect lah. He also complains to his friends about me what & i accept that cos i'm not perfect either. I don't see anything wrong with it leh? =P
Alright, back to topic. We decided to settle our dinner at City Square mall as well and this time round, we tried
Astons
!!!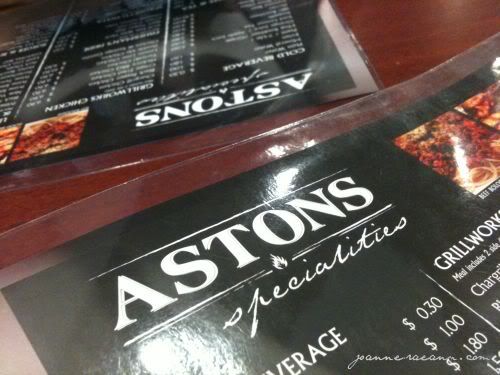 Heard of it before??? If you haven try it before, YOU MUST TRY! But you must go as early as 5+pm, otherwise you gotta queueeeeeeeeeeeee, very long! Now, i'll let you know why it's a must to try it...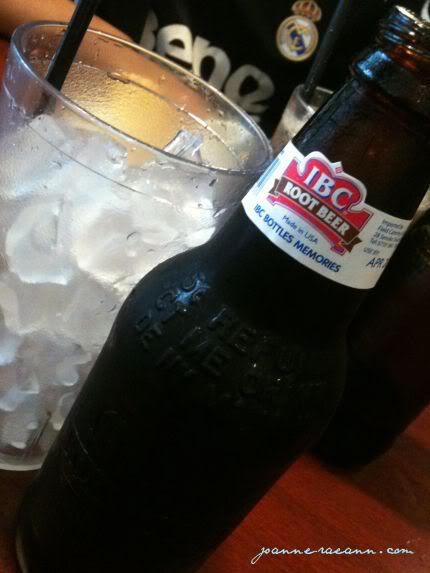 2 bottles of IBC root beer.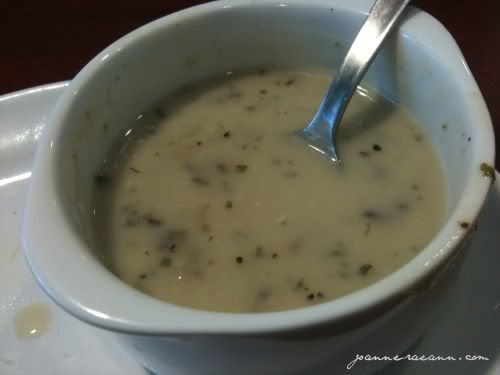 Soup-of-the-day + 2 pcs garlic bread. ZY was too hungry so he ate the bread before i can take pic of it.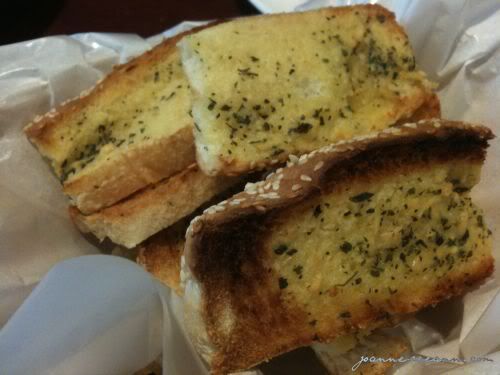 Didn't know garlic bread was served with Soup-of-the-day & thus ordered another 'set'. SO MANY pieces lor!

Now, the main course! You can choose 2 side dishes of your own choice. (corn, fries, onion rings, rice etc etc, alot lah, can't remember liao.)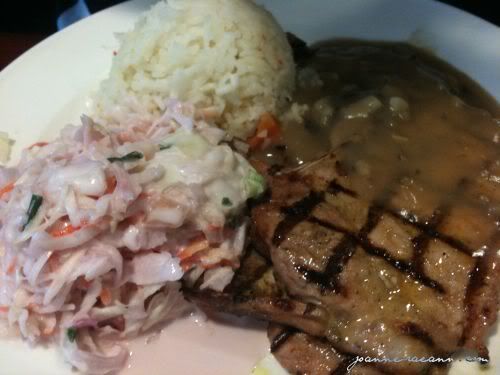 Pork chop set.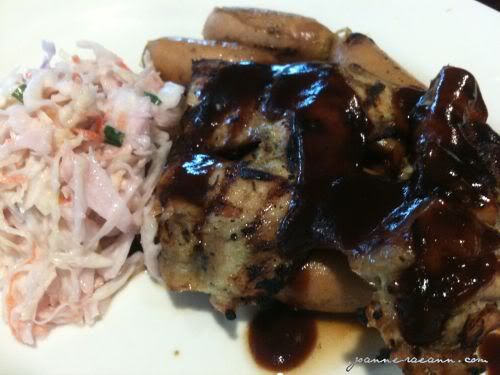 Chicken (of your own choice) + Sausage combo.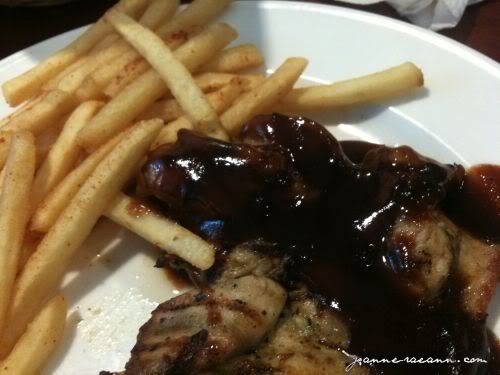 Don't know what BBQ chicken set.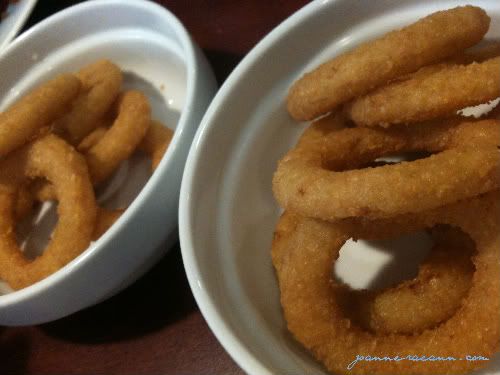 Onion rings - side dish.
We ordered so much becos we didn't expect their portion to be so huge. Looking at the whole 'lot' of food we ordered, guess how much the bill total up to??? You will never expect it.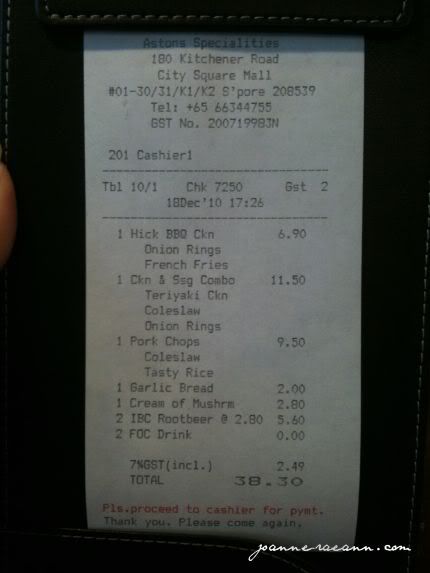 Yes, all for just $38.30! WTF! How issit possible to find such good food in a restaurant (air-conditioned, mind you) at such incredible price??? Yes, maybe in Thailand. But Singapore??? Besides hawker and kopitiam, everywhere is expensive, even food court! No wonder their queue is so fucking long everyday!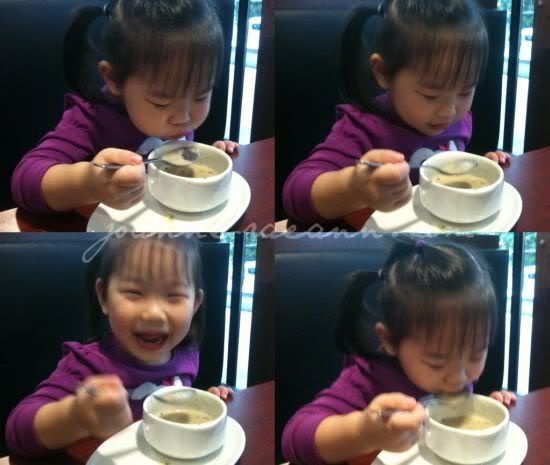 Lil' Rui En enjoying their soup!
OMG! I just google search for their website and i found out that there are so many Astons outlets in SG & YOU CAN ACTUALLY CALL & MAKE A RESERVATION!!!!!! Read
here
! You see, i'm so nice, i share good & nice things with everyone! LOL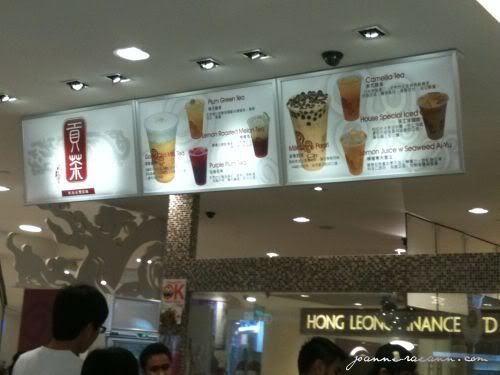 The 'reason' why we are there; Gong Cha. But Gong Cha in HK taste so much better & cheaper! ZY also said so. However, i feel that their caramel milk tea (SG) is better than KOI one lah. Don't opt for 100% sugar though, will be too sweet! LALALA! Yes, i've sweet tooth, no matter what & where i drink, i always opt for 100% sugar! 不肥是假的! But once in a while should be ok de lah, cos i seldom drink bubble tea de!