Found some pics on my phone & laptop which i'm supposed to post but
has got no time to resize and upload
forgot!
P/S : Lil' rascal has been taking my phone, playing with the camera, snapping here and that, this and that. Just now when i tried to upload the lenses i took with my phone, i got a shock when i saw all the pics she snapped. ALL VERY CANDID LOR but i'm not going to post it here lah!
LOL! Chloe took this pic for her!
ZY brought us to Coca steamboat last Saturday! Taste so much better than MK steamboat in Hat Yai!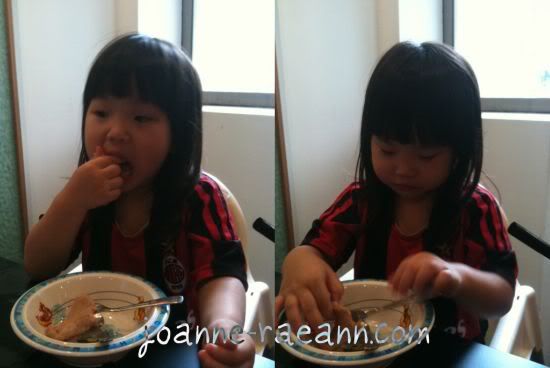 She cannot live without meat! Every meal, she needs to have meat! 跟鸡和猪有仇! And the sad thing is, she doesn't want to eat vege no matter how we force her to. Same like her dad lor, never eat any vege wan!

Went shopping at EA and i was arguing with ZY over this bag. He said this bag is for sales wan. I told him that this is like their 'paper bag' lah. He don't believe until he asked the sales lady. Seriously, WHO WILL BUY THIS BAG OFF THE SHELF AH???
Anyway, ZY bought a sling bag & they gave me one big and one small for free! Hahaha I very auntie right? But it's good leh. I can put alot of things and won't tear easily! :)
Mc'Cafe Oreo Cheesecake! VERY NICE!
I cannot see any food pic when i'm hungry! I'M VERY HUNGRY NOW!