Have you guys started spring cleaning? I've started mine during the weekend! Already threw one big bag of rubbish, more to go & EVERYTHING'S GONNA BE NEW this year!
I'll get rid of ALL the unwanted stuffs/people away
. Heehee
Ordered a new wardrobe (in the sweetest color combination, pink + purple + white) for Raeann & it will arrive in about 10 days time. Really excited about this cos i can finally pack all her stuffs into one specific space, although it might not be enough. But at least, MY ROOM CAN FINALLY BE NEATER liao.
To think that my room used to be so neat & tidy before i was married, how did i actually tolerate such mess for more than 3 years ah? Raeann is a very pro mess-er, JUST LIKE HER DAD, both are the same, ZY could be worse. At least, everytime i asked Raeann to pack the things she took out back to it's original spot, she will do, even though it's not very neat. But as for ZY, HE WILL WAIT FOR THE THINGS TO WALK BACK ITSELF, which will never ever happen, unless got ghost. Thus, i'll be the one who do so with alot of naggings as background. Tell me lah, how not to nag when your partner refuse to cooperate? HOW? Can one tolerance level really be that high? Sigh
But luckily, I'VE GOT A WONDERFUL DAUGHTER! :))))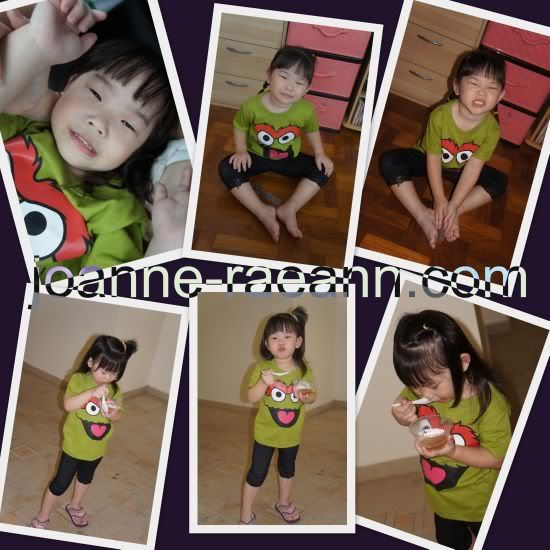 The sweet lil' one...
You know hor, she will stand up for me de. Yesterday when we were watching TV, ZY don't know do what to me (forgot liao), i stared at him, she jitao go smack his hand & tell him, "看你还敢不敢弄 mummy lah". LOL! But she's really sticky to me nowadays, i don't know why... Aiyoyo
♥♥♥♥♥♥
Yummylicious Pineapple Tarts
This is all along my no. 1 favourite CNY goodie.
ZY & SIL ordered 30 big bottles from their relative and we went to collect it last night!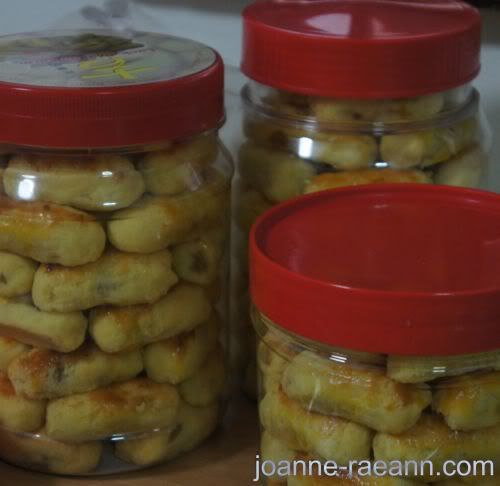 ZY bought 2 big bottles for my parents & i also bought 2 big bottles home. So now, my house has 4 big bottles of pineapple tarts but i don't dare to start eating yet cos once i start, i cannot stop! HELP!!!!!
P/S : If you're interested to order, you can leave a comment or email me for more details! :)
Updates on the Pineapple Tarts
Due to overwhelming responses, i've decided to post the infos here.
$20.00 per (big) bottle (50+ pcs)

Self collection at Jurong

Free delivery to one address for 10 bottles & above
To confirm, leave a comment with your email and the number of bottles you want. I'll collect full payment first just in case of dead buyers. Sorry for the inconvenience caused. Thanks!