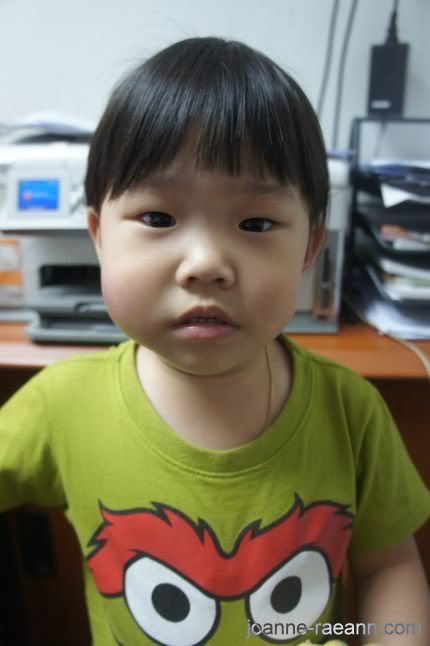 I realise, she cannot tie her hair into one pony tail. Becos from the front view, she looks totally like a BOY. Plus her attire is always so boyish, if without her hair, everyone (will) thought she is a boy. Sigh
That's why i wanted another girl, to inspire her to be more girly. But i've got a very strong feeling, that my wish isn't going to come true! Well, i've got no choice, but to accept. As long as baby is healthy... right?
Anyway, did you notice that one side of her cheek is swollen?
LOL! She posed and let me take this pic! Haha
That's becos she got bitten by don't know what shit again. TMD, stop attacking on my daughter lah! She asked me, "why mosquito loves to bite me?" KAOZ! Damn mosquitos/insects! FUCK U ALL! LOL
Oh, time passes so fast, tomorrow is the cruise day but... i haven pack anything yet! I don't know what to bring and what not to bring? My hb asked me to bring swim suit & swim with the kids. I'M NOT GOING TO DO SO even when he said he's going to buy me a new swim suit cos mine can't fit liao.
Yes, i know, some pregnant ladies are so proud of their tummy & they don't mind showing everyone. But NOT ME! I'm not at all proud of my enormous tummy & i don't wish to show anyone & make them puke. 我是有自知之明的, becos i've a mirror at home & in my office! Heehee
SIAN SIAN SIAN SIAN SIAN x 1 million.
Please bear with me, cos i think i'll complain all the way throughout my pregnancy! Sigh