Sorry for not blogging so regularly now becos my life's upside down
once again
. Beside vomitting, eating & sleeping for the past... 3 weeks? 1 month?, i don't think i did anything else. Sleeping = about 18 hours during the weekends, i'm serious. I can fall asleep immediately after eating, and when i wake up, it's time to eat again! I tried to stay 'alive' & active but the medicine is making me total drowsy & restless. And yes, i'm relying on it becos i don't want to vomit. There was once i vomit till there's blood coming out from my throat! If i did not take the medicine, i simply vomit right after every meal or even when i did not eat anything, i'll vomit out acid juice. It's TMD torturing!
A few times when ZY was driving, i had the urge to vomit and he had to pass me plastic bag & asked me to rest. I think he finally knows that it's really not easy for me! Cos the same thing happened when i had Raeann but he couldn't care less that time.
Went for checkup yesterday & we brought Raeann along! I told my gynae, "this girl was being delivered by you also, 4 yrs ago". How time flies huh? It's been 4 long years! =D
Poor girl caught a virus, her fever was as high as 39.2 dc on Saturday morning, scare me out! She has never ever caught a fever so high before! Furthermore, her fever was like stock market, up & down, up & down. Thank god ZY stayed over to help me out cos i myself also feel very restless!
But Raeann's damn good at 'tekaning' him lor! DAMN GOOD! When he's around, her leg's always pain (without fail) & she will request him to massage until she fall asleep. HAHAHA! When he's not around, her leg's completely fine & she has never ask me to massage for her before.
It's fun watching them play also! She pretended to be opening concert, asked ZY to be her (only) audience. He must wave his hands high up while she sings & must applause loud loud after she completed one song. Then she went to 'change' & come out again to sing another song. It's very very funny lah! I'm thinking who taught her all these huh? We didn't bring her to watch concert before what!
Then out of sudden, they switched to another 'game', became waitress & customer. She asked ZY what he wants, ZY said, "猫山王榴莲". Then she asked him, "what color?" (???). ZY asked her got what color, she said, "yellow, BLACK" (???!!!).
Then i forgot what they say liao but it made me laugh like mad lor!
It's really sweet watching them play & hearing ZY asking Raeann not to disturb me & let me rest when i'm in my drowsy mode. All these little things are my encouragements!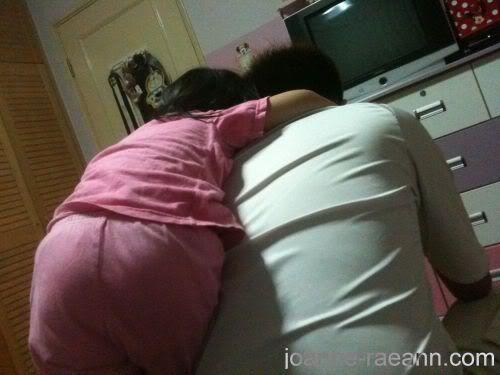 Both of them exploring ZY's new Galaxy Tab!
Oh, ZY bought me a new phone last week! But i had trouble transferring over the contacts! I think i better go & upgrade my sim card instead of keying it in one by one!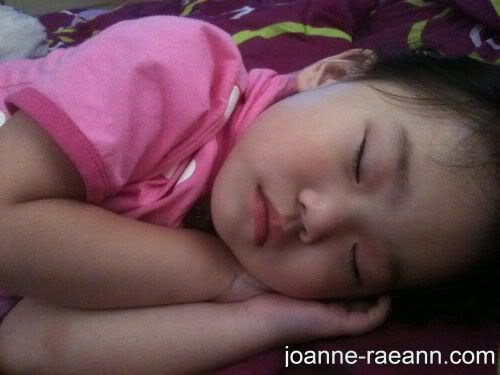 Thank god she's better now! Stupid fever, please go away hor!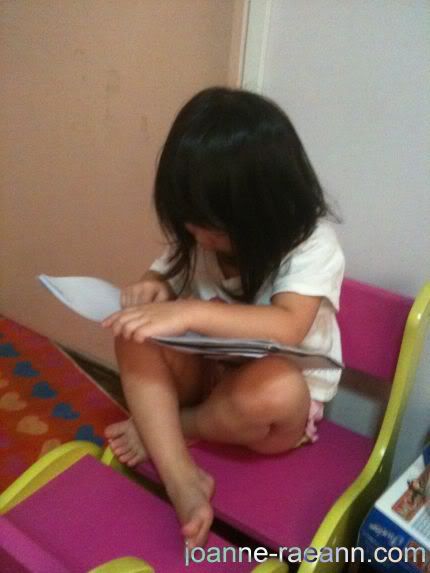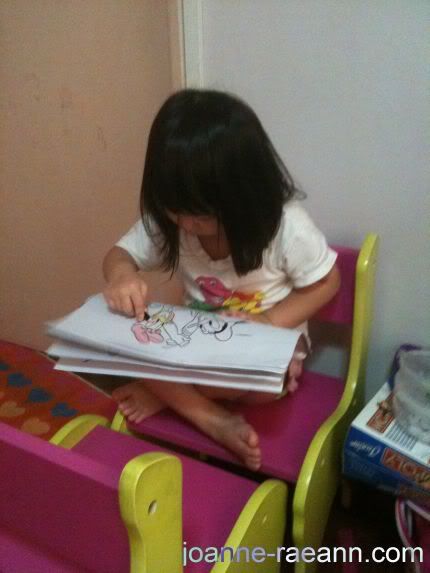 Sometimes an angel but most of the time, A DEVIL!