I've always believed in fate & destiny, every path we took, everything that happened seems to be planned accordingly, by god.
Like when i got pregnant, when is baby coming out & etc.
This current pregnancy was not planned (likewise for Raeann), i was shocked when i knew i was pregnant, i didn't tell anyone initially becos i didn't intend to keep it. My mum knew it by chance cos she saw the pregnancy test kit. I cried, becos everyone's forcing me to keep. I'm afraid, that i can't handle two, that history will repeat & etc. But well, it's again fated that i decided to keep.
And guess what? My baby edd was on 2nd Oct 2011 initially, but during the latest checkup, the edd changed to 22nd Sept, WHICH IS THE SAME AS RAEANN'S. But Raeann came out 10 days earlier than her edd, will this one be the same too? =)
P/S : Done the scanning of my baby's face, look 99% like Raeann lor! Pic up on my personal blog! =)
My mum was saying, if it's the same, it will be great! Cos this year 12/9 is lunar 15/8 which is the lantern festival. Whatever ba, leave it to fate! =)
♥♥♥♥♥♥♥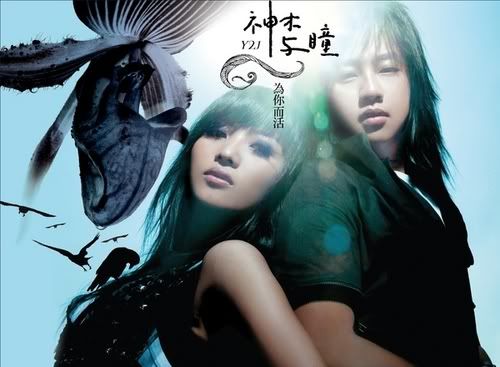 Recently, Raeann is going insane over this duet group, Y2J aka 神木于瞳. Like if you want her to wear something or tie her hair, you just tell her it's 神木于瞳's hairstyle/clothes/etc & she will do it. BUT, she said she's the guy so she refused to wear skirt, as usual. And guess who is her partner, the lady? ZY lor!!! Hahaha! She said if we didn't call her 神木于瞳, she won't answer us! =.= I don't know how the hell she gotta know about this group becos never for once i played their song, or watched them on tv.
Then hor, my mum went to make fun of her and said she wants to be 神木于瞳 too. Guess her reply?
"我跟你讲过几百次了,你这样老了不可以做神木于瞳!"
Hahaha, this "我跟你讲过几百次了" is what i always tell her when she misbehaved or anyhow throw her things. And she used it on my mum! LOL
The way she talk really make people 又好气又好笑! Now that she's still young, everyone find her cute & funny. Wait till she gets older, people will find her irritating liao. Sigh
Not easy at all to be the one doing the discipline!!!