It was an eye opener for us last night. We had dinner with 6000+ people!!! OMG, 600+ tables! Damn huge & grand for a temple dinner. Saw alot of familiar faces, saw a friend's ex & current bf, saw alot of young good-looking bankers too. When i said good-looking, they're those eligible from appearances type, age range around 20+-30+. LOL
I know why they were there lah, cos alot of RICH & BIG bosses were there lor! PR mah! Why i knew there were alot of rich and big bosses there is becos of the bidding amount. Can you imagine a pair of ong lai for $60+K, one huat kuey $70K, one banner $140K and etc etc etc? I don't know need to take how long to save the most minimum amount lor. Now i know, there are ALOT of very rich Singaporeans around.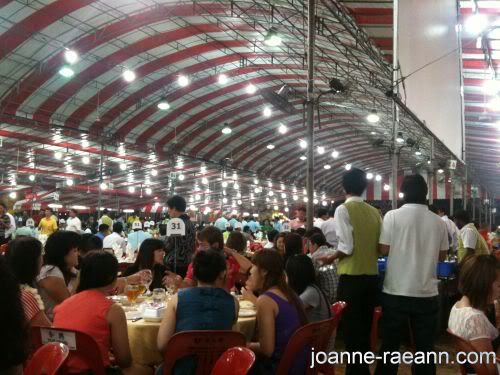 It's so damn huge that they need to separate it area by area like A1 - A6, B1 - B6 & etc then follow by the table number. Really 夸张 one!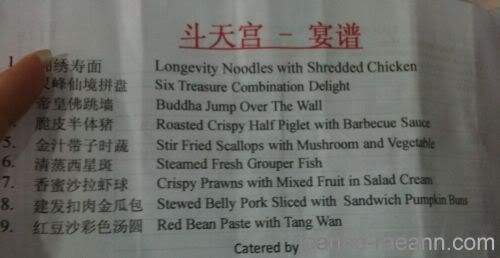 The menu!
All the tables are seperated into 4 different caterers. Unfortunately, our table is not under the best caterer! Our food is so-so only thus i'm not going to go into it much. Well, the table besides us got the best caterer, which my mum was praising so well cos she had it last year! From what i see, INDEED IT IS lor!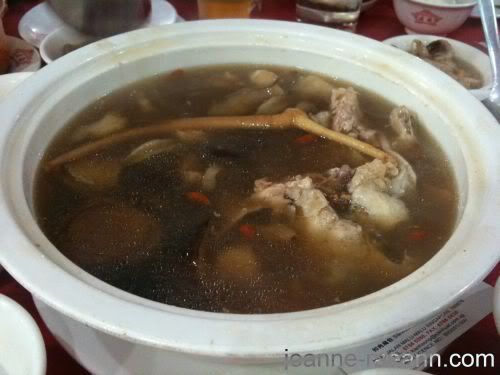 'Buddha Jump Over The Wall'. Did you see abalone? One each hor!