Last night was a torture, i was disturbed up in the middle of the night with a terrible heartburn and couldn't get back to sleep until morning when i see the sky started to be bright. =,= Means, i tossed on the bed for, more than 3+ hours. FML!
This morning, i was supposed to wake up at 7am becos i need to send Raeann to school before 9am for her 'Singapore Day' celebration. LOL! Yeah, she called it 'Singapore Day'. But i wasn't feeling well so i asked her to skip it cos nobody will send her there. She went to ask my parent to send her there, lol! Her passion for this school is coming back! Thank god for lovely and supporting mum & (sometimes) dad. Hahaha! My dad ah, really dote on Raeann wan, she's like his 5th child! Heehee
Was discussing about 胎教 with some friends on Twitter and most of them agreed with it, that what we do when we're preggie will form what kind of child out. Aiyo, i've been doing all the lazy things this pregnancy, think this baby will be very lazy! =X Think tonight go home must
kei siao
take a book out and read & listen to some classical music liao. LOL! Really lor, how come all the 'responsibilities' fall on the mum only, then what is daddy suppose to do??
*go YouTube search for some musics NOW!
This is like the BEST i found, the rest really makes me fall asleep. LOL!


And this! My favourite Japanese song! So relaxing!
Hahaha! Really buay tahan, fancy me doing something which is totally not my style! No choice, for baby's sake yeah! Guess i should know why Raeann is so not girly now, becos i wasn't treated like a princess when i was preggie with her (i think this one even worse, lol). But it's okay, at least both my pregnancies, i'm very independent, so i hope both my kids will be independent too. *self console*
When you're independent, you're far ahead of many others already. It's true! Becos you don't wait and rely on others, you shoulder everything yourself. Nowadays, alot of women are very strong & independent, which is why women are much more capable than men now. Cheerios to all women & mummies out there!
P/S : I think i'm like kinda following my mum's footsteps, which i really really don't wish to becos i think my mum doesn't have good life. Her life is struggling since young, until now. And hor, she also let people bullied since young de! AIYOYO, i like see her reflection in myself now. *shake head*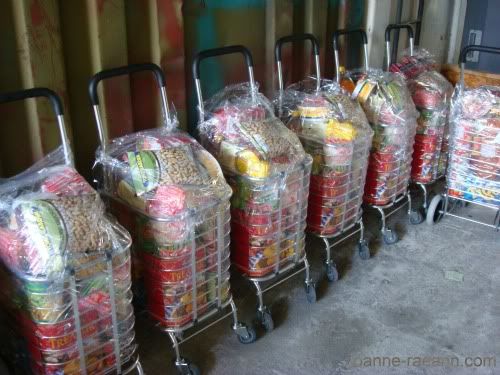 7th month praying at BB store last Saturday!
We ordered something kinda different this year. Instead of ordering from Unifood, we ordered from Giant. I saw this when i went shopping last Saturday at Giant Turf City and i suggested it to my mum. She also saw it from the catalogue, so she decided to go ahead with the ordering after i told her. I think it's worth it! The trolley alone cost like $29.99 liao and this set cost only $69.00. Very nice mah, my employee's wife can bring the trolley to do marketing. LOL!
And and and...

This is the status from Vpost this morning!!! So fast? Our package reached SG le??
Mummy Lydia helped & guided me alot here, she's an expert Vpost user! And hor, she checked for me, I DIDN'T TIO TAX! Which by right, i should have got a tax of S$28.80 becos my package costed S$360 and the postage costed S$61.10, which has exceeded S$400! Wheeee weeet! Keeping my fingers crossed that they won't last minute ask me to pay anything! =D