These 2 days, Raeann suddenly says she wanna change school out of no apparent reason. I'm very puzzled cos she love her current school alot, so why the sudden mind change?
I made a trip down to her school to pick her up yesterday and asked the teacher. So the reason was, becos one of her classmate is shifting house and he went to school and announced that he's going to change school already and so, the whole class also said they wanna change school. =.=
Kids are still kids.
If she were to told me during March when i asked her, i will change school for her becos i think this school, is not very convenient for my aunt. But most likely, will put her to the childcare instead as my aunt has to look after another baby next year.
But anyway, everything shall remain as it is becos i don't have the time & energy to do so much things now.
So, yesterday, she was given her first homework and she was soooooo excited & eager to do it. The moment she reached my aunt's place, she said she wanna do homework liao. Hahaha! Usually, FIRST TIME is lidat! I shall see what patterns she has when she goes to Primary school. LOL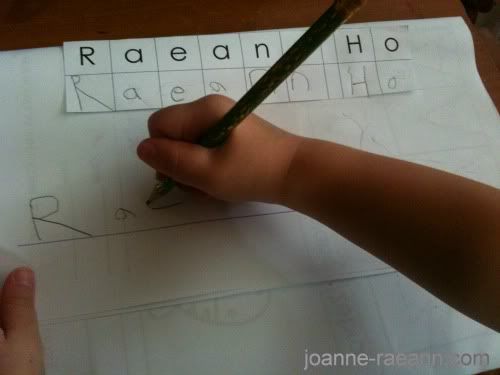 She is still learning how to write her name, and the way she writes it, i can't help but keep laughing & laughing. Every letter is okay except for her letter 'e', she writes it the dom ba lek way. 

Well, i do see improvements from her after she attends this school. But i'm not going to impose any pressure on her yet, she should be enjoying her childhood at this time, right?