It's so nice catching up with old friends, friends of 14 yrs. Last evening, three secondary school good friends came to visit me & Raechelle. (Told aunty before hand & she prepared a table of delicious food for us! Thank u aunty! I think i'll miss her and her food loads when my confinement ends.) We just have TOO MUCH to catch up lor, we ended the "party" at only 12am. Most of us are married with kids already, time really flies. We misses the time when we're still schooling lor! We chatted from school time admirers & boyfriends to marriage & kids, never-ending topics. NICE!
Actually, other than a little bored everyday & cannot go out, MY CONFINEMENT ROCKS lah! If confinement minus the rule of having to cope at home everyday, i seriously don't mind having such confinement for 2-3 months leh. LOL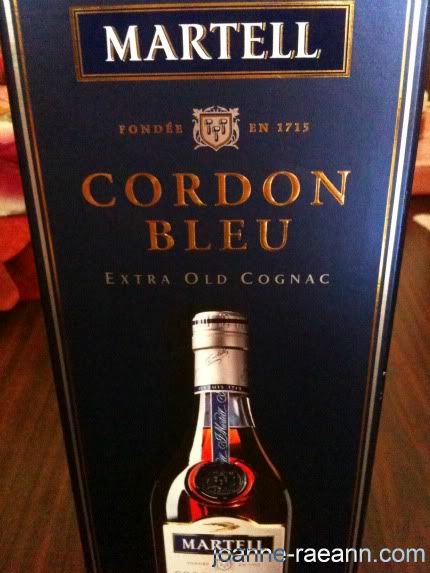 My mum passed me this yesterday, she asked me to drink as much as i can. If not enough, go home and take somemore. LOL! First time i heard confinement must drink Cordon Bleu leh! I'm so lucky to be my parent's daughter.
Oh btw, i've slimmed down 9kgs as of yesterday, not too bad, at least i see some results. Hope to slim down another few more kgs by the end of my confinement. And the rest, within the next 2 months! I WILL DO IT LAH! Very upset to see my past photos, more upset to hear people say they cannot recognise me! :(
I really wonder why must woman go through all these? Don't feel appreciated at all! *sad life*
(Reminding myself to 看开~ 看开~)
Well, at least i've got very lovely parent who dote me lots! And of cos, my two darling cartoon daughters!
Somehow, i realised, having kids is really a heng & sway thingy. Some couples get along well, but after having kid, they break up. Some couples always fight but willing to compromise for the sake of their kid, which is like my case.
Me and ZY both agreed that, without Raeann, we would have long ago divorced, and most probably, started our own families by now. It's true! I told him, i would give anything up for them, so don't pin any hope that if anything happen, i'll give them to him (unless i die lah). He, himself too, would do anything for them. We both have only one goal - give the best to our kids. As for other issues, we don't really bother anymore. Talk about love? Nah, i don't think there's still love between us anymore, but only love for our kids. Does it happens to any of you here too? Or my marriage is a more special case? (We both don't like to stay together. LOL)
P/S : I'm going to see my precious Raeann soon~ So happy!!!