Here i'm trying every possible means to slim down, there she is worrying that i didn't get enough tonic, asking aunty to cook this cook that for me. My mum called me in the noon, said she's bringing a bottle of Cordon Bleu here to ask aunty boil it with black chicken for me. Wah seh, this is ultra 'bor', i wonder how i slim down lidat? Xiaoshan will definately love it, shall ask her here to share the love with me. LOL
P/S : Btw, aunty's cooking is delicious! How to resist?!
Own mum is the BEST! Agree?
How my mum loves me = how i will love my own kids. How i treat my mum = how my kids will treat me in future. This is all in a cycle, calls Karma. I strongly believe in that!
Just woke up from nap becos i slept late last night but wake up damn early today, to pump. Breast engorgement is no fun, pain until i can't sleep. No wonder they said breast feeding is the best way to slim down. Pump and pump and pump, until sleep deprived, as good as taking care of baby. Gonna go pump again after blogging! LOL
Okay, some pics of meimei before i go...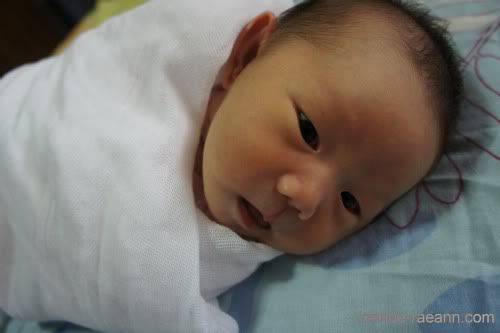 Meimei has all the features that i always desired!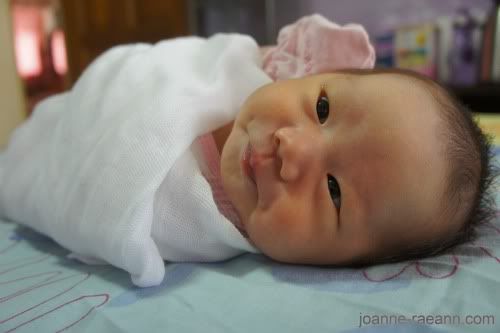 Is that called a dimple?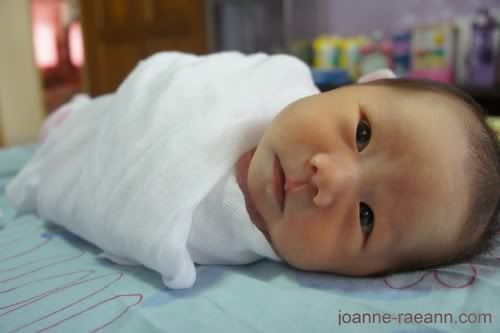 Love her eyes!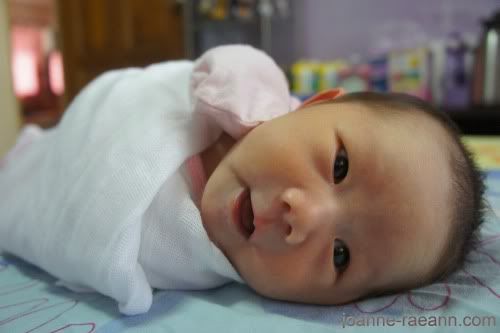 My sweet Raechelle!
Everyone is saying that she's much prettier than Raeann at birth. Yes, i agree, Raeann wasn't born a pretty baby, even till now, she doesn't belongs to the 'pretty' category. But both are my kids, i don't wanna compare them cos both are the apples of my eyes, no matter how they looks like.
Then this Raeann very funny, she told me last week, "每个人讲我比妹妹美 leh". LOL
ZY told me last night that he actually missed Raeann alot. I asked him why? Cos he doesn't used to stay with us, we only meet once a week. He said it's cos during the waiting period (maybe about 1 mth), he came to stay with us and so, he's used to Raeann sleeping by his side liao.

In fact, we're still very unfamiliar with meimei, need time to get used to her. Alright, i need to remember that we're a family of 4 now! :)