Finally get the chance to sit down in front of my laptop, to blog and reply to comments! Even though i've already went on ML, i'm so so so so busy lor, even more busy than working days! Busy going out with ZY & Raeann, fulfilling every promises we made to her before i go and give birth. I'm so worried that she will cry on the day i leave for the hospital, making me cry with her too (which i think it will happen, definately)! :(
***A lil' update about precious2 : Just went for heartbeat test earlier and doc says very healthy, so grateful for that. God, thank you for everything! But ZY kept asking baby not to come out so soon as he's busy with house shifting & his car now. HAHA! Heard that, baby? That's the thing about opting for natural birth (i've never wanted to) lor. You won't know when your baby decided to come & knock on your door and all you can do is to wait, wait & wait. That's what i'm doing right now lor, wait & wait, si bei sian, can't plan anything ahead at all!
Seriously, i'm thankful for what ZY is doing right now, spending time with us, rejecting his billiard dates, helping me with Raeann, i truely appreciates everything! It's true that you'll feel happier when you're contented with everything you have. Right now, i put my family in front of everything & if my family is happy, i feel happy too! :)
Yesterday, we brought Raeann to iluma for The Smurfs in 3D! Our first 3D movie in SG! All along, we only watched 2D movies cos we find wearing that spec is sucha hassle! But i guess we were wrong! 3D movie is actually not bad!!! And, the cinema in iluma is very spacious & comfortable, although people told me their price is higher as compared to others, but i think it's worth it leh!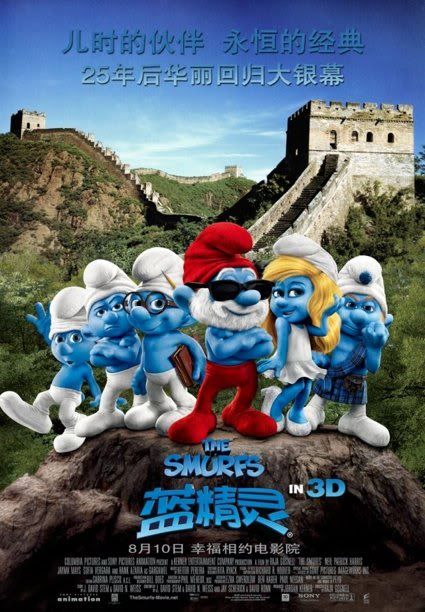 The Smurfs is sucha fantastic movie!!!!!!!!!!
Despite being very tired, Raeann stayed awake throughout the whole movie! And at the last part when Smurfs are returning back to their 'hometown', she teared. Means, she actually understands what's the movie about! But one thing lah, if she's not sleeping, she kept asking questions, alot of questions. Aiyo! 

Anyway, i planned for a mini celebration for Raeann this coming Saturday at home! And... a 2.5D (according to Michelle, haha) very cute Smurf cake at a really cheap price, you will never guess how much cos it's too cheap! Anyone interested to know, you can email me, i'll be glad to share the place, price & pic with you! ^^

Yesterday hor, this Raeann very funny again! When we reached home, my bomb head neighbour asked her, "your birthday on the 12th right? auntie buy something for you ok? what do you want?". Raeann jitao reply without any hesistation, "ok, i wan iPad". HAHAHAHA!

Me, ZY, my mum & dad all laughed out loud. Nobody expect such an answer from her lor. Damn funny lah! That auntie jitao dumb founded! You see lor, nowadays 4 yrs old kid don't play with Barbie dolls, toy cars & etc liao. They played with all the gadgets now! Her daddy just bought a pink PSP for her as birthday present. Now, she's asking for iPad! I wonder what will she ask for when she reaches Primary School? Spoilt brat she is. And, she don't know how to protect her belongings yet, anyhow throw, end up it's me who is doing the 'protection' for her lor! =,=