We paid $200 to take pic for Raechelle in the hospital but when delivered yesterday, i realised that her name was wrongly spelt. They took it back for re-print. I thought it was their mistake becos i can't possibly spell my own daughter's name wrongly. But turn out, MY HUSBAND IS THE ONE WHO SPELT IT WRONGLY, and we're requested to pay another $20 now! LOL
Anyway, the lady thought Raechelle's name is pronounced as 'Rachel', just that the spelling is different. But well,
Raechelle is pronounced as 'Ray Shell'
, not 'Rachel', 'Ra-shell' or whatever. Weird that people always spell or pronounce my two daughters' names wrongly. Why huh?
Raeann ~ Ray-ann
Raechelle ~ Ray-shell
So difficult to get it right meh? Sigh
♥♥♥♥♥♥
Thursday

Picked Raeann from school as i need to go to the hospital to settle the baby bonus documents. Aftermath, we brought her to Toys"R"us warehouse sales at Downtown East. Nothing much & quite messy cos toys were lying around everywhere. It's quite cheap though, my husband spent $100+ on 4 big bags of toys! Raeann didn't buy any toys wor!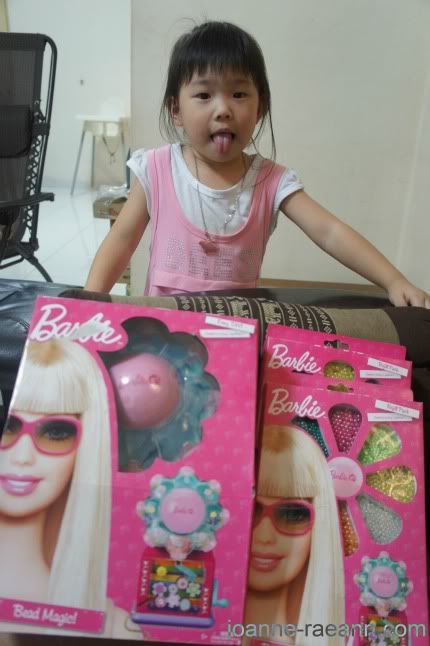 Bought this set at only $19. Meant to keep it as X'mas gift but Raeann opened it up!
♥♥♥
Saturday
Tricia and Agnes, together with their two lovely kids came to pay us a visit! Aunty misses them and asked me to invite them over for lunch and she cooked a table of delicious food for us (again). With aunty around, i can never be slim. HAHA!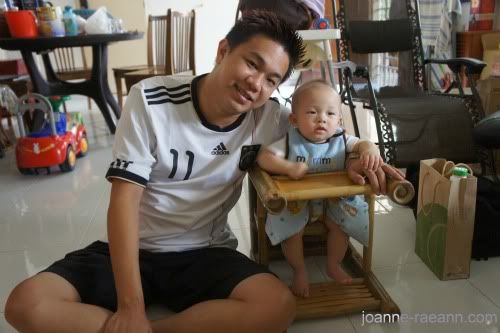 他们是老朋友!
Jayven is talking to ZY!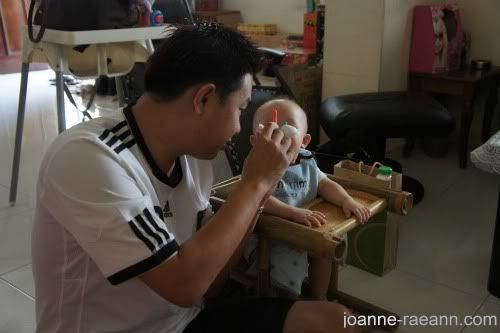 So cute lah! (Eh, i'm saying Jayven!)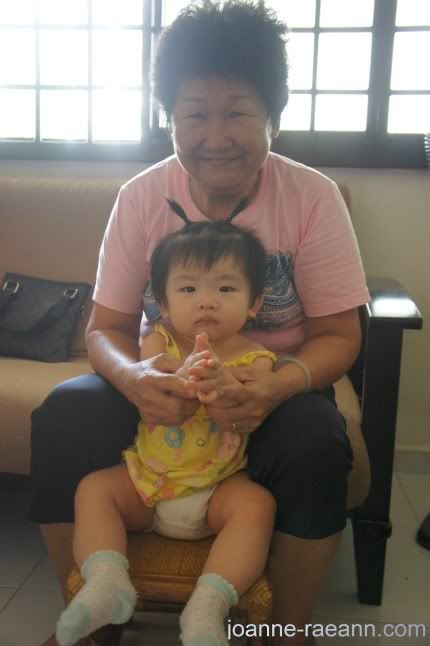 Chubby Qiqi with aunty!
Aunty 偏心, i asked her to take a pic with me, she refused! LOL

♥♥♥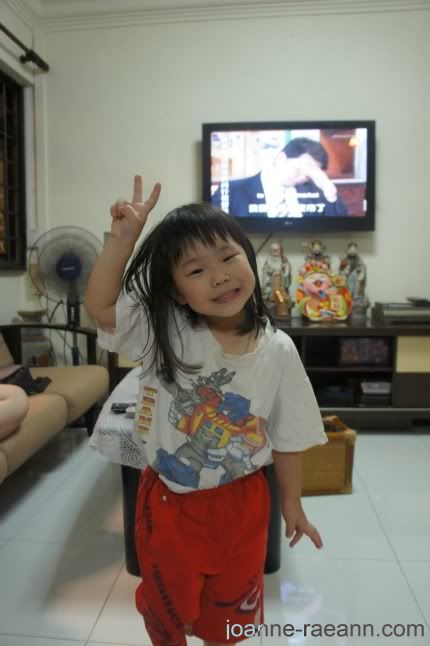 She likes to wear all these NUA NUA clothes! =.=
Miss Nua aka Raeann was here from last Thursday till this morning. When she's around, with 3 other kids, the house is D.I.S.A.S.T.E.R. It's really a huge combo, even aunty and ZY also buay tahan. Fight & fight, quarrel & quarrel, cry & cry, complain & complain, really can die! Headache ah! I asked ZY not to bring Raeann back this week liao, as we need to give out cakes on Sunday also.
Time flies, my confinement is ending liao and i'm feeling sad + scare! Cos when i go back home, it's me alone handling two liao. Raeann's playing the 'jealousy' game while meimei refused to sleep nowadays, i don't know how. I hope i won't go insane looking after them!

P/S : My SIL said that Raechelle's iris is brownish and big. Then i told her is cos i always wear 'big eye lens' when i was pregnant. Hahahaha! I very rubbish, i know.