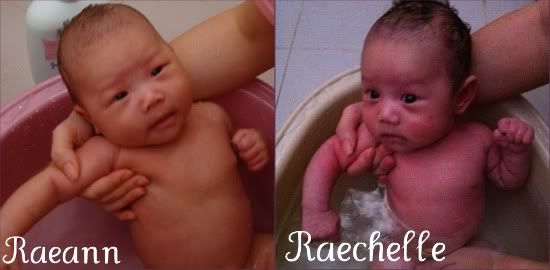 It's so fun looking through all their pictures, spotting their differences.
So, who looks like who?! Other than the eyes, i think they look quite alike hor?
Still can't believe i'm already a mother of two. Raechelle is like a dream! From the day i knew i was pregnant to the day i delivered her, till now, everything is just like a dream to me. Unlike Raeann's, those pain that i've gone through seems so unfamiliar to me now. Is this what it's suppose to be? That's why some women are willing to go through it over and over again, even though it's not easy? But i still super hate pregnancy cos that's the time when i felt myself so clumsy and useless.
Anyway, here's a video of meimei before i end this post!
That's the way how she always 'call out' for us! :)