Date : 5th November 2011
Today, we left meimei at home and went to town (feel so bad, but if we bring her along, we won't be able to buy anything at all). My motive is to get a birthday gift for ZY but end up, we both spent few hundreds to buy stuffs for our 2 kids and NOTHING for ourselves! =,=
We did went to some boutiques to search for the thing ZY wanted, but to no avail. It's either they don't have or can't fit. But i've decided to get him something from Prada, we will go again on Wednesday.
Time to shop for Ashlyn, XS & mum's birthday presents and some X'mas presents as well. We're holding a X'mas party cum Ashlyn's birthday this year at my place! Seriously can't wait, so excited!!!
Anyway, we had our breakfast & lunch at Mushroom Pot just now and there were some people fliming a certain food program, i'm guessing it's 永远吃不肥 (did i get it right?), not sure though. It's seem so fun to be on TV! Asked Raeann to do a recording also...


LOL! Super funny lah!

Then, we proceed to search for ZY's present, walked over to Taka...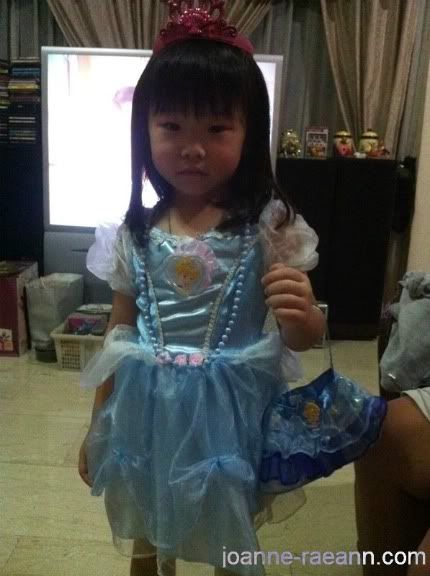 Bought this Cinderella set for her, she's the one who said she wanted it, i hope she wears it and don't waste my money. But nvm, heehee, cos i've got meimei now, and can pass it to her!
Bought a few other items for her too, which i can't remember now. Her daddy bought her a pair of sport shoes and 2 sets of clothings for meimei.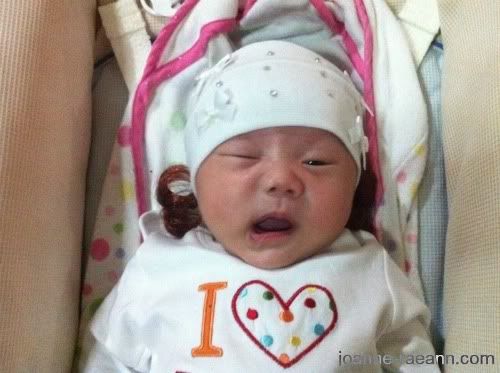 I bought this for meimei, still too big for her though! And she doesn't like it, struggling to take it out!
Didn't spent time with her lidat since meimei is born, i admit i have neglected her and i think she felt left out too. She has been complaining that we don't love and dote on her anymore, we only give our attentions to meimei. She always do things to make us angry lor. Like we tell her nicely that she's not suppose to do that, then she will do it even more. See lah, i already know such thing will happen. SIGH BIG TIME!