Sent my watch for a complete "checkup" yesterday, before the warantty ends on Feb 2012. If not, it will cost me a fucking $750. Now that it's free, faster go and do. Seriously, why would people spend so much to get a Rolex? It looks so simple & so troublesome!!! Don't know, i just don't know how to appreciate watches. So yes, it's shopping AGAIN! This time round, at Paragon.
Lunch @ Bei Sheng Seafood (Thai food) - Yishun before going!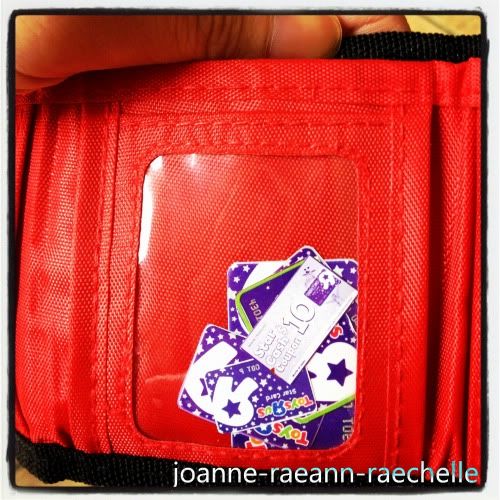 She's really full of ideas. Becos i don't wanna give her the real Toy'r'us card, she asked Mary to cut all this mini ones for her from the catalogues & kept it inside her wallet. LOL! She has alot of Toy'r'us cards too!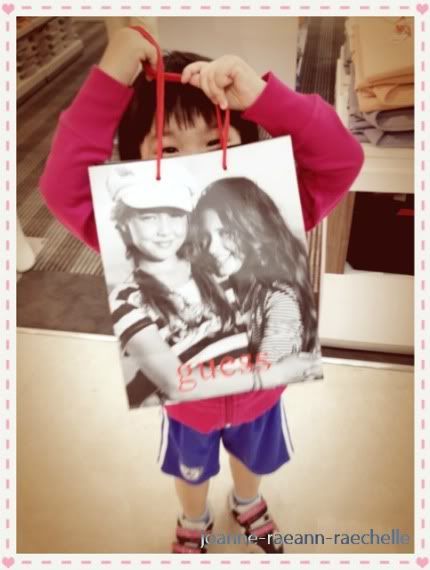 Happy girl got her CNY clothings!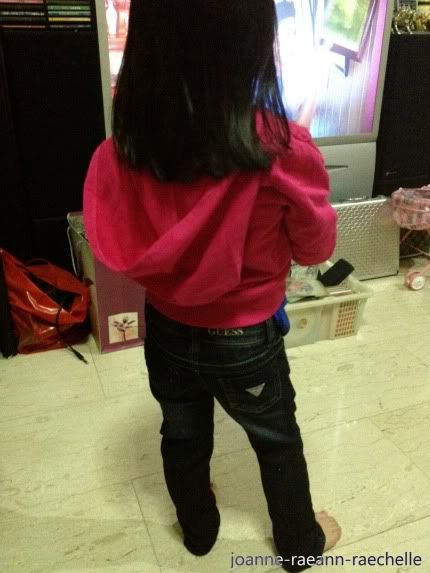 Her new "Superman" jeans suits her perfectly.
Hahah! She said Guess logo is "Superman". LOL! We wanted to get her a FOX jeans cos Guess one is too expensive. Then she kept saying, "this one not nice, the Superman one is nicer". SUPER FUSSY GIRL! She wants those real jeans material, can put belt, got 2 pockets in front and behind & etc. All others, she don't want means don't want. At her current age, she can really make people vomit blood. But anyway, this jeans will be a good investment, just like her Angry Bird bag & wallet that i bought for her, cos she will wears it everytime. (She simply bring her bag, wallet & hp everywhere she go, even to sleep. =,=)
Bought a suit for meimei too. A total damage of $200 inside this store. I don't even own one branded apparel, i swear.

You know, she's really very funny. Her dad called her on her hp yesterday...

She said to me, "Aiya, this papa keep calling me".

Raeann : Hello Pa, 什么事?
ZY : 你在那里?

And she leaded him the way to find us. She talked so loudly, just like a lil' adult and all the sales ladies/aunties kept looking at her and laugh. She can access to her hp very well (i gave her my Samsung Galaxy Ace), i don't even know it that well. ZY told her that if one day she got lost, she can call anyone of us cos she already know how to call all of us. Too independent for her age, i'm so worried i can't catch up!