Raechelle is 4 months old (lunar calendar) today. According to Chinese tradition, baby has to shave their head before they can enter temples. Raeann's hair was shaved at 4 months (some at 1 month, it depends on individual), and so is Raechelle...
If you've followed my blog, you should know that i've accidentally lost Raechelle's umbilical cord (tor zai) & has been guilty since the day i found out. And so, i've deliberately arranged an appointment with
Huaxia Taomaobi Centre
to shave her head (and made her hair into hair brush) yesterday.
I've to admit, i didn't expect the price to be so... expensive! I chosen the one with her name stamp on top and some engravings on the brush itself & it costed $208. Plus the box with engraving that costed $90.00 and GST, i paid a total of $310.30... for ONE brush. Everyone said i 'kena chopped'. My dad said he also know how to make for me, at less than $50. HAHAHA
Actually, i wanted to make Raeann's umbilical cord into a stamp too but... maybe later, too expensive!
Meimei didn't make a single sound at all! I took a video (rotating it now) but there were alot of 'background' voices when i've already told them not to make any noise as i wanna take video. Sigh! And why hor, the image will suddenly become yellowish as i change the angle huh? Issit due to the lightings or my phone? So sad that the video turn out lidat! :(
They took half of her hair to make the brush and gave me the other half to keep. At least now, i'm not so gulity liao, one keep umbilical cord, another one keep hair, FAIR!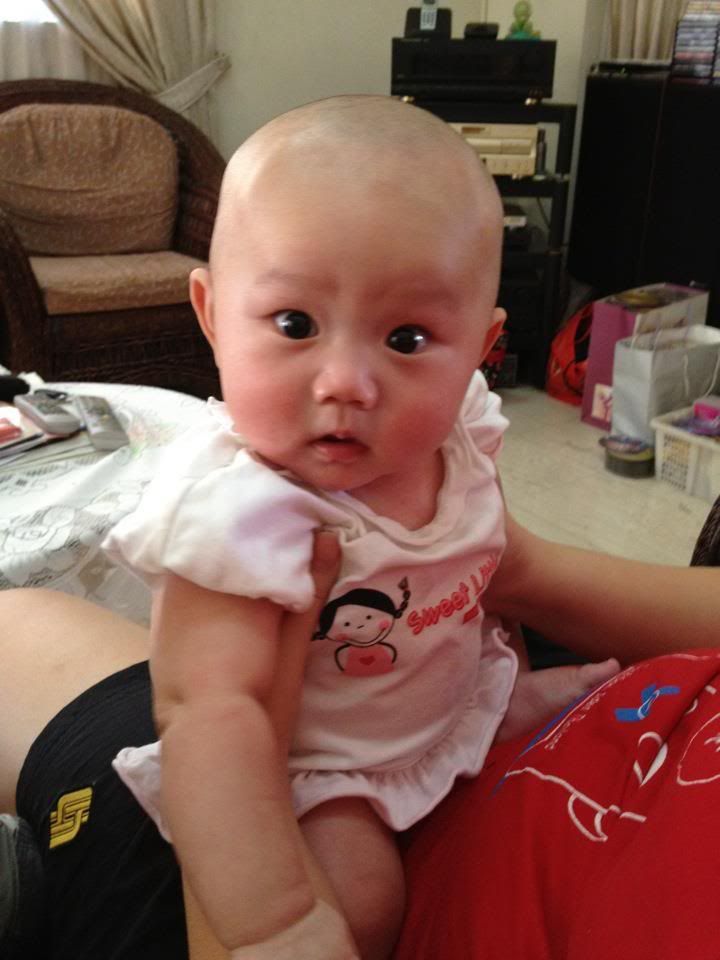 Botak cuter hor?! =)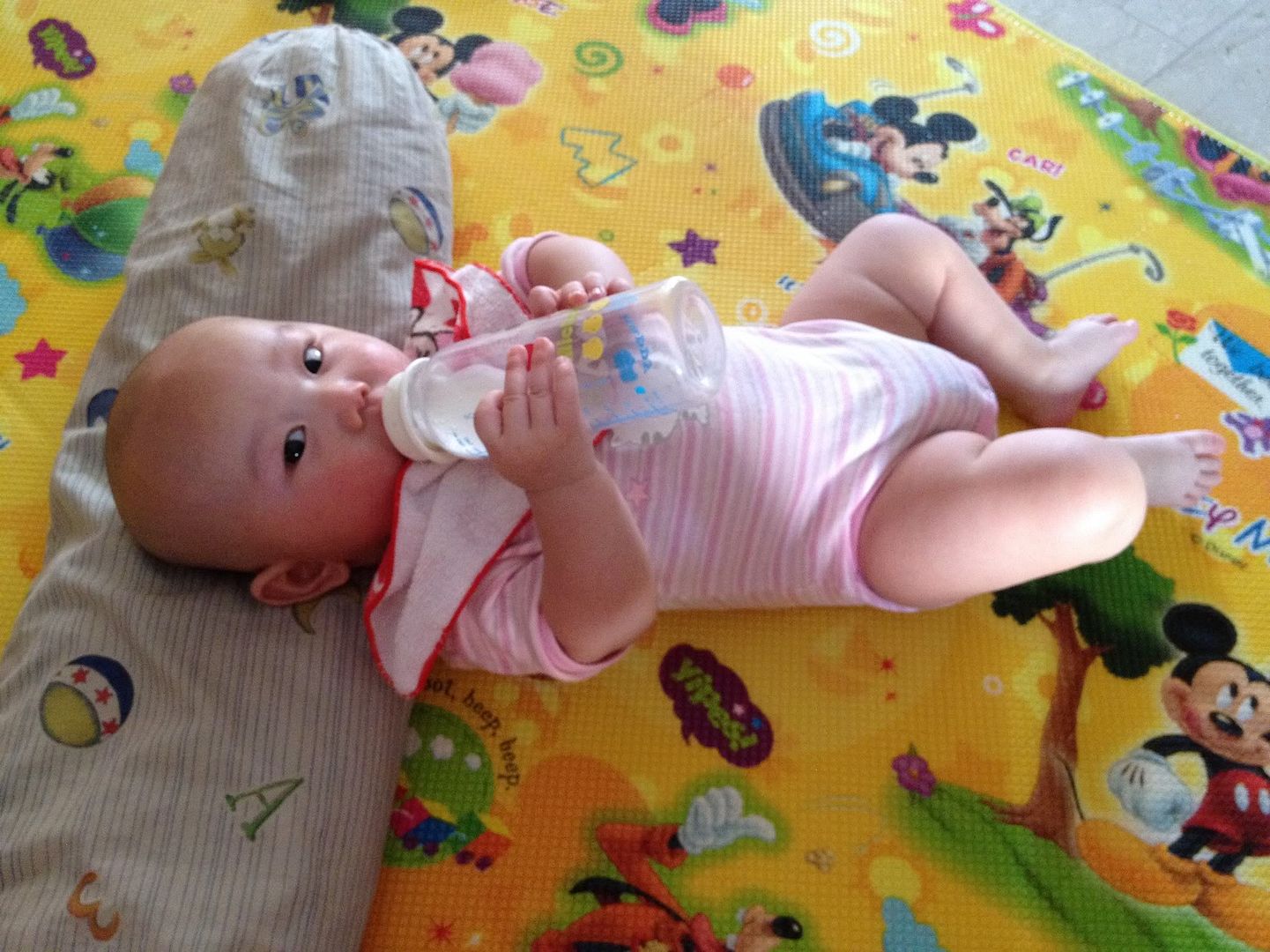 Botak mei is drinking milk on her own now! Started training her when she was less than 3 months old.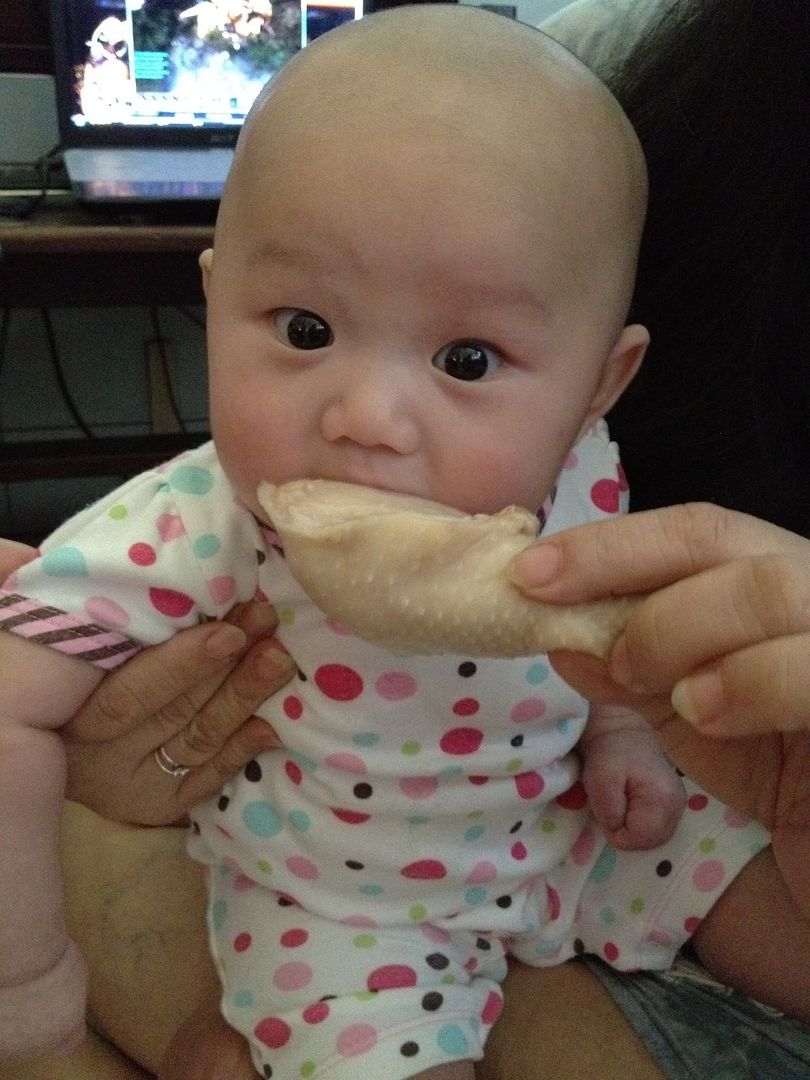 Botak mei had a taste of chicken drumstick this morning!!


Time really flies, meimei is 4 months old already. I told my mum yesterday, don't know why looking after meimei, the time seems to pass faster & i was hoping she don't grow up so fast whereas Raeann, i was hoping she can grow up faster everyday. Now that she has grown up, i missed her baby's time lor.
I thank god for blessing me with these two lovely kids! =)